Stop us if you're getting deja-vu: Uber used spyware to nobble dial-a-ride rival, this time Down Under, allegedly
Aussie media claims Silicon Valley giant used surveillance tool to torpedo competitor
Uber has once again been accused of using spyware tools to help it undermine a competing business.
This time, it is Australia's taxi-hailing GoCatch claiming that the San Francisco-based dial-a-ride giant had been using shady tools to track its drivers in an attempt to hire them away and starve competitors of workers.
According to a report from Oz telly broadcaster ABC, Uber devs allegedly compromised GoCatch systems, and installed a tool dubbed Surfcam. That software was used to track and log GoCatch's cabbies and trips, an anonymous former Uber worker claimed.
Using that information, Uber, it is said, was able to collect information about drivers, including their name and car registration info. Uber then contacted the top drivers at GoCatch and offered them work, with the hope of starving GoCatch of cabbies, it is claimed.
The Surfcam tool was allegedly in use for some time, having first been developed internally by Uber in 2015, according to the claims.
"Surfcam when used in Australia was able to put fledgling Australian competitors onto the ropes," ABC quoted its anonymous tipster as saying. "Surfcam allowed Uber Australia to see in real time all of the competitor cars online and to scrape data such as the driver's name, car registration, and so on."
Uber had yet to respond to a request for comment at the time of publication.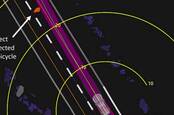 Uber won't face criminal charges after its robo-car killed woman crossing street
READ MORE
While the allegations have yet to be proven, if true this would not be the first time Uber was found to have used a shady piece of in-house software to undermine a rival. Back in 2017, the ride-sharing giant came under scrutiny from the US government after the whistle was blown on "Hell", an in-house software tool Uber deployed against drivers working with rival Lyft.
That software similarly allowed Uber to spy on the drivers working for its rivals and hand-pick the people it wanted to flip over to its side in an attempt to create a shortage for Lyft.
Around roughly the same time, another secret software tool called Greyball was also brought to the public's attention. That tool, designed to help Uber skirt laws against its service, flagged accounts used by cops to prevent officers from finding drivers to ticket.
In the fallout of those and other scandals, Uber has attempted to remake its image from the top, starting with the replacement of Travis Kalanick with Dara Khosrowshahi as CEO.
A return to its old ways in Australia would be a serious setback for Uber's efforts to clean up its image, if true. ®