Oracle swings axe on cloud infrastructure corps amid possible bloodbath at Big Red
0.4 to 10% of corporate wage slaves could be up for the chop
---
Oracle has laid off about 40 people in its Cloud Infrastructure (OCI) group in Seattle – and on Friday began notifying about 250 workers at its Redwood City facility and about 100 at its Santa Clara location, both in California, that they will be let go in May.
These US-based layoffs are part of a broad round of job cuts around the globe this month, said to range from 500 to 14,000 at the database giant. The biz employs about 140,000 worldwide.
The Register spoke with an individual affected by the layoff who confirmed that about 40 people in Oracle's cloud group have been let go. The insider, who asked not to be named, recounted being summoned to an office last week with other team members, and being told to leave that afternoon.
The dismissal includes people who now face concerns over whether they can remain in the US because they're no longer employed and are here in the States on work visas. Some will have very little time to find work before having to leave the US.
It's official
Oracle on Thursday filed paperwork with California's Employment Development Department signaling its intent to terminate employees at its Redwood City and Santa Clara sites.
"The Redwood City Facility is not closing as part of this reduction in force," one of the company's WARN notices explains. "Rather, Oracle is reevaluating its product focus and skill set gaps, and for these reasons, has decided to lay off certain employees in the Product Development organization. It's anticipated these layoffs will be permanent."
The cuts affect application developers, data scientists, business analysts, graphic designers, IT managers, market researchers, communications professionals, product managers, QA analysts, software developers, systems admins, web designers and others.
The explanation for the Santa Clara cuts is similar, covering mostly software developers.
An IEEE Spectrum report last week said 50 people in Mexico, 50 in New Hampshire, and 100 in India have lost their jobs at Oracle in the last week.
The report estimates that at least 500 have been affected but cautions the number may be in the thousands, with some people on online discussion boards claiming the headcount reduction could reach 10 per cent of the company's workforce, or about 14,000 people.
Make of that what you will
The Register asked Oracle to confirm the layoffs and the number of people affected. We received a only partial answer.
"As our cloud business grows, we will continually balance our resources and restructure our development group to help ensure we have the right people delivering the best cloud products to our customers around the world," said Oracle spokesperson Deborah Hellinger in a statement provided via email.
A purported copy of an internal email addressed to Oracle employees has been posted to TheLayoff.com, a work-related discussion site. It was supposedly penned by Don Johnson, EVP of Oracle Cloud Infrastructure product development.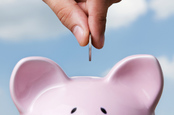 Oracle's long-running pension plan class action case: C'mon, judge, reject a jury trial – Big Red
READ MORE
"Today's changes within OCI will better align with Larry's vision of the business," the letter says, referring to Oracle founder, CTO and executive chairman Larry Ellison. "It will streamline our products and services, focus investments on our most strategic priorities, and help us to more effectively and rapidly deliver the full promise and reach of Oracle's Gen 2 Cloud."
As news of the layoffs began to circulate last week, managers at tech companies reached out through social media posts to encourage technical talent to call attention to open positions.
Despite Oracle's representations that its cloud business is booming, the recent departure of two cloud execs and an aggressive stock buyback plan have raised concerns the database giant is trying to keep its share price high while having mixed cloud results.
The last time Big Red doled out the pink slips in bulk was 2017 when the Solaris and SPARC teams among others took the brunt of the damage. ®