International investors gobble up Brit satellite specialist Inmarsat
Nom-nom-nom, says hungry private equity type Triton Bidco
British satellite communications specialist Inmarsat will be taken private by a consortium of international investors in a deal worth $3.4bn (£2.6bn).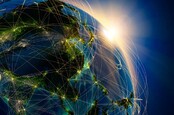 Azure IoT heads spacewards to maintain connectivity at the edge, courtesy of Inmarsat
READ MORE
The group, which calls itself Triton Bidco, includes British private equity firm Apax Partners, the US-based Warburg Pincus, Canada Pension Plan Investment and Ontario Teachers' Pension Plan.
Triton Bidco will pay $7.21 (£5.46) in cash per Inmarsat share, a premium of 46 per cent over the closing price on 30 January 2019, a day before the offer was submitted. The consortium has promised to keep the company's headquarters in the UK and maintain R&D spending at its current levels.
It's so metal
Inmarsat has been launching bits of metal into the sky for 40 years. It was established as International Maritime Satellite Organization (INMARSAT) in 1979 to serve the shipping community and got involved in aeronautical communications in the 1980s. In 1999, the commercial operations of the organisation were spun off into UK-based Inmarsat Ltd, marking the first time an international satellite organisation was privatised.
Today, the company is primarily known for its telephone and data services – one of its biggest earners is the tech that beams internet connectivity to passenger aeroplanes to provide in-flight Wi-Fi.
"Triton Bidco believes that the satellite sector is attractive, with unique characteristics, including long lead times and the need for deep technical expertise, while operators in the sector require strategic management and a long investment horizon," the consortium said in a filing with the London Stock Exchange.
"Triton Bidco believes that integrated satellite operators with scale like Inmarsat are well positioned as network provision becomes more complex."
In recent years, satellite-based networking has been attracting attention of big cloud businesses that have traditionally relied on fibre: for example, in February Microsoft announced it would deliver Industrial IoT connectivity using Inmarsat's satellites. Meanwhile, AWS has partnered with Inmarsat's competitor, Iridium Communications, to do the same.
"Triton Bidco also sees considerable potential for Inmarsat's in-flight connectivity business in commercial aviation and in seeking to maximise global IoT opportunities," detailed the filing.
The Great British take-off
Inmarsat has long carried the mantle of a designated British tech success. When thinking about what big tech businesses this country has produced in recent years, the answer will usually go something like: "Arm, but it was sold to the Japanese... and I guess, erm, Inmarsat?"
The company runs its iconic (i.e. with a massive logo) headquarters near London's Old Street, next door to the Silicon Roundabout, in the heart of the area which was once promoted as London's Tech City ('member?).
Naturally, the prospect of losing one of the brightest jewels in the country's tech crown to foreign investors has triggered some commentators. "Inmarsat must send its foreign suitors packing for the sake of Britain's tech industry," bellowed Ben Marlow over at The Telegraph. Expect this talking point to surface repeatedly over the coming days.
Triton Bidco is planning to expand the Inmarsat business worldwide, but the promise to keep the current headquarters might sweeten the deal. "Our planned ownership will enable this innovative British company to fulfil its ambitions to become a global leader in next-generation satellite communications," the consortium said.
If the offer is approved by shareholders, and no competing bids for Inmarsat emerge, the deal could be finalised before the end of the year. ®