Max Schrems schreds another 'blockade' to challenging Facebook data transfers in Austria
Antisocial network: They gotta go to a DPA, man. Normal ppl can't sue us! Vienna court: I think you'll find...
---
Privacy activist Max Schrems has demolished another "blockade" in his long-running dispute with Facebook in the Austrian courts.
The Vienna Higher Regional Court has said that Facebook users can indeed lob civil sueballs at the social media Goliath, reopening the door for a case launched by Schrems in 2014.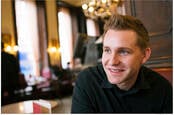 Safe Harbour ruled INVALID: Facebook 'n' pals' data slurp at risk
READ MORE
The case – one of many Schrems has lodged against the firm – focuses on allegations that Facebook violated users' fundamental rights with its transfers of personal data.
It has bounced around various courts – including the European Union's top court – and the latest decision is the seventh in the case. Schrems is now hoping to move it along.
"After a good four-and-a-half years, we have now slowly resolved various blockade attempts," the activist and lawyer said in a statement (PDF).
"But this case shows that a normal consumer has almost no chance that his or her lawsuit is heard. I'm already looking forward to having Facebook's countless privacy violations before a public court soon."
The Zuckerborg, in an attempt to avoid the suit, has argued that users should only be able to file complaints with the relevant data protection authority – and not submit a lawsuit in the courts.
The Vienna Regional Court has twice agreed with Facebook, most recently in December last year, saying that it was not able to hear the case because the data protection authority had exclusive jurisdiction on the matter.
However, Schrems challenged this decision in the higher court, which has now confirmed that the General Data Protection Regulation – which came into force across the bloc last year – does allow citizens to file lawsuits in the civil courts.
Article 79 of the GDPR grants people the right to an effective judicial remedy against a controller or processor, as well as the right to lodge a complaint with an agency, in their own member state.
Schrems said on Twitter that the judge in the previous case had "relied on Austrian law", and speculated that some judges "are not keen to have (complex) GDPR cases on their table".
The Austrian Supreme Court is now to decide whether the Regional Court for Civil Matters or the Commercial Court should hear the case. Schrems said that he expects Facebook to appeal to the Supreme Court.
We've asked Facebook for comment. ®