Analysis Ambitious online file-silo boxer Box can't enter the heavyweight enterprise content management (ECM) championships because its core platform is too skinny to cope.
Cloud-based data-storage biz Box reckons it is best placed to integrate its sync-and-share platform with enterprise content management needs, and customers are going to demand such integration in the future – but, er, aren't doing so just yet.
That demand inflection point's arrival is not under Box's control, and its growth is limited by its inability to sell product bundles, sorry, solutions effectively, and sell it all to large enterprises.
Box's latest results, covering its fourth fiscal 2019 quarter and full year, were mixed, with profitability still some way off, and growth signs mixed.
For the three months to January 31, the final quarter of that fiscal year, its revenues of $163.7m were up 20 per cent yea on year, but billings were lower than expected at $237.7m, up 16 per cent. There was a loss of $19.7m; the loss was a deeper $32.5m one a year ago.
Full fiscal 2019 revenues were $608.4m, also up 20 per cent on the year, with a loss of $134.6m; an improvement on the year-ago $154m loss. Billings for the year were $672.9m, up 15 per cent.
"In fiscal 2019, we made progress in our transition to solution selling as demonstrated by strong add-on product attach rates and solid growth in six-figure deals throughout the year," said Box CEO and cofounder Aaron Levie at the time the figures were emitted to investors. "While our Q4 billings results were below our expectations – driven by underperformance in EMEA and longer sales cycles for some seven-figure deals – we are encouraged by overall customer momentum and demand for cloud content management."
He said he's confident about fiscal 2020, because: "Our leadership position enables us to disrupt the legacy content management market and help our customers accelerate their digital transformation."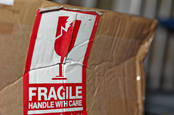 High-jacking the Box: Enterprise storage tool's customers leave secrets on web like sitting ducks – including Box itself
READ MORE
Box has been keeping its investors happy while making losses by growing. If that growth stalls, investors may not wait around for its business to show its promised potential, and dump their stock.
Consequently, Levie needs to keep stockholders on side, and has been talking up Box's prospects to financial analysts, such as those at William Blair.
William Blair analyst Jason Ader told a meeting between investors and Levie this week: "Box's business is still in a transition phase as it attempts to extend its enterprise file sync and share (EFSS) capabilities into the broader enterprise content management (ECM) market. This thrust entails tying the Box platform more closely to an enterprise's systems of record and business process logic—the historical purview of ECM systems."
Ader said Box's go-to-market execution needs continued focus and refinement to get billings up. New sales leadership in EMEA is expected to help this.
Levie said Box needed contact levels higher up customer management trees to close more seven-figure deals, as well as better sales forecasting. He wants sales comp plans more aligned to such big deals as well as to product suite, sorry, solution selling. That means adding separate products like Governance, Zones, Compliance, Relay (workflow automation), and Skills to the basic Box platform.
The Relay tool is important here as its automation facilities can tie the other tools together. Ader noted that Box hopes "to release a fully re-architected Relay (which was brought in-house last year after the IBM partnership fizzled)" by the end of June.
Levie expects there to be a more formalised approach to product suite selling later this year, with bundles appearing.
The general product picture is one of a cloud-native EFSS product set which Box is trying to expand into the ECM space where customers largely have on-premises software stacks; not cloud-native ones. The two don't mix well.
Levie told the analyst, during the investor meeting, that he thinks demand for cloud-native ECM will step up "as customers realise that their existing content architectures are not aligned with the rest of the IT stack (in the sense of being cloud-centred)."
When such an inflection point in demand will arrive is not clear. While the arrival is awaited, Levie thinks making his company's product set better suited to vertical markets will help nudge customers Box-ward. ®