This article is more than 1 year old
P30 pic pyrotechnics in Paris: That's one Huawei to set the smartphone world alight
Every new phone is a hard sell in 2019. Will photo stunts be enough?
Comment In a saturated, stagnating smartphone market, Huawei now spends immense resources on publicity to gain attention – not once but twice a year. Yesterday in Paris saw 3,200 – including The Register – attend the launch of the P30 models, with over 2,000 of us witnessing some impressive imaging pyrotechnics not seen on smartphones before.
Advertising for the new hardware will be hard to avoid. You could argue that this effort is good for business for everyone, keeping demand alive. A market bored to death needs to get excited about something.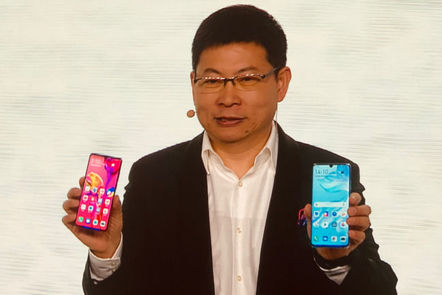 Huawei's Richard Yu with the P30s regular and Pro
These showpieces include very impressive darkness photography.
"Galaxy can't see galaxy," chortled Huawei's Richard Yu as he showed a Samsung phone struggling to record more than a few dots of a night sky, while the P30 Pro showed a full-colour Milky Way. Zoom goes up to 50x. Both these use cases, one suspects, need a tripod. And that's part of the trouble.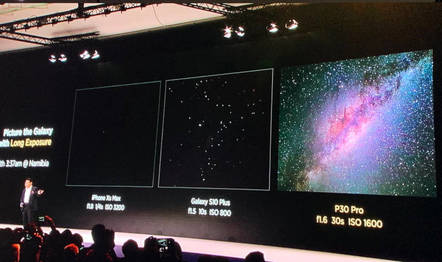 Click to enlarge
Astronomy shots and 50x zoom are largely niche use cases: they're stunt shots.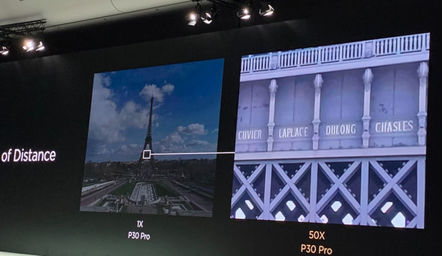 Stunt queens – zooming in 50 times on the Eiffel tower (click to enlarge)
The "inferior" iPhone is widely considered to be falling behind the pack, but it still takes good well-balanced shots, and excellent portraits, which is about all that most people care about.
Here, we found last year, Huawei's overaggressive post-image processing ruined many similar shots, robbing them of character. We look forward to seeing whether this has been tempered in the P30. (It was late last year when the Mate 20 Pro turned off the AI by default.)
Low-light stunts are terrific for the brand, and Huawei has every right to be at the top table. But there's more to an upgrade than just the camera.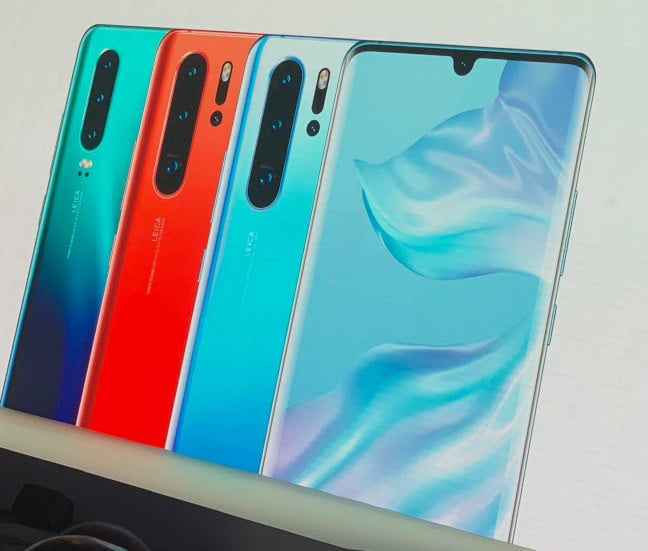 But as we found in our hands-on article, making slightly improved technology that either depreciates so rapidly (Android) or lasts so long (Apple) yet at a higher price merely makes the problem "worse". The previous iteration of an Apple, Samsung or Huawei flagship represents far better value than the one hot off the production line.
If you're coming from a 2015 Galaxy S6 or S6 Edge (for example), then the new Huawei range will have much to commend it, particularly in the battery department. As a modern phone, it's faster, with more memory, and much better 4G performance.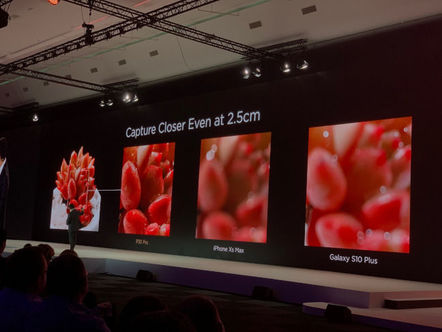 Click to enlarge
But the owner of a 2016 Galaxy S7, a phone which still works superbly, will wonder what the fuss is about. (The S7 has that reassuring button. The P30 Pro dispenses with the headphone jack. Some may not care, some will.)
And those looking for an upgrade may find more value in that year-old model. At under £600, the Mate 20 Pro or Galaxy S9 Plus – or at under £450 the P20 Pro – have a great deal of the advantage of "modern" without the price handicap. (The P30 starts at €799 SIM-free.)
Huawei's strengths are in tremendous RF performance (for calls and downloads) and solid battery life – not so sexy – complemented by some startling results in niche photography situations. All that applies to the P20 and older Mates, though. That's the unforgiving logic of an industry that is only bringing marginal improvements to market. Those improvement are, er… marginal.
So that was largely the purpose of yesterday's Paris extravaganza, and the accompanying avalanche of marketing that will go with the launch of the P30 phones. When a smartphone-maker says it has "reinvented blah", it's really stressing to older Galaxy owners that they need to think about Huawei, rather than just getting a thoroughly respectable Samsung all over again.
To a lesser extent, Huawei makes an appeal to iPhone owners, too. It's saying: Huawei is bleeding edge for photography, and Apple is really falling behind the pack. But few ever change platforms between Android and iOS these days – each one is a sunken investment.
Clawing away at Samsung's lead is really what each of these launches is about. It might not come close this year, but Huawei's sheer industrial muscle, as well as its economies of scale, mean it's going to be slugging away for years to come. ®