Stop us if you've heard this one: IBM sued after axing older staff, this time over 'denying' them their legal rights
If claims are true, someone in HR is going to be getting their marching papers... shame
---
IBM is once again facing legal action in America after ditching staffers over the age of 40.
This time, Big Blue is accused of using underhand tactics to prevent laid-off employees from firing class-action lawsuits at the tech titan.
Specifically, the civil complaint, filed today in the southern district of New York, alleges IBM withheld vital information from workers causing them to sign away their rights to collectively sue the biz for age discrimination. The apparently withheld info may have in fact persuaded the chopped staff to retain their option to collectively sue the corporation; without the details, though, many signed away their rights.
At issue is a 1991 US law called the Older Workers Benefit Protection Act (OWBPA), which oversees people's rights to collectively sue their employers under the Age Discrimination in Employment Act (ADEA).
The OWBPA requires that when a company asks a departing employee to sign away their ADEA rights to collectively sue, typically as part of a severance or lay-off package, the biz provides an employee with a list of the job titles and ages of everyone being let go at that time. The idea is that each individual worker can gauge whether the layoff disproportionately impacted older, or younger, colleagues, and how many of them are being asked to sign away their rights.
"OWBPA was enacted because Congress concluded employees were being coerced to give away claims for age discrimination without adequate information," Jeff Young, of Johnson, Webbert & Young, the lawyers representing the plaintiffs, explained to The Register. "With that information, the person is able to make a more informed decision before he or she signs away rights."
The importance of paperwork
The complaint filed today alleges that, since 2014, IBM has given employees don't-sue-us waivers that did not include the required OWBPA statistics on who was being axed. Without this information, the plaintiffs argue, IBM had employees sign away the right to pursue collective age discrimination claims without the full context of the layoffs. Signing away that right would leave an ex-IBMer taking on the mega-corp one-on-one, if they decided to sue, which is an expensive and daunting prospect.
"IBM's waiver specifically prohibited workers from pursuing their claims collectively, even in arbitration," the complaint reads.
"IBM sought to deprive its workers of the essential economies and advantages from pursuing their ADEA claims together and instead to burden them with the limitations and costs of bringing individual actions challenging the same discriminatory practices in secret arbitrations separate from each other."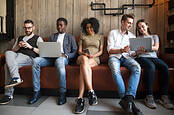 IBM fired me because I'm not a millennial, says axed cloud sales star
READ MORE
IBM, for its part, believes the waivers are perfectly legal, noting a recent Supreme Court decision (Epic v Lewis) upholding similar arbitration deals.
"Multiple courts, including the US Supreme Court, have rejected the plaintiffs' theories," an IBM spokesman told The Register. "We are confident that our arbitration clauses are legal and appropriate."
Should the waivers be invalidated, attorneys for the plaintiffs tell El Reg as many as 20,000 former workers could be free to pursue class-action age discrimination claims. The lawsuit was filed by Steven Estle, Margaret Ahlders, Lance Salonia, and Cheryl Witmer, all in their 50s, and let go in May 2016. They had spent at least a decade each at the company.
Such claims have become a point of contention in IBM's ongoing layoffs, as workers over a certain age claim they are being disproportionately targeted in an effort to replace them with millennials, allegations IBM has denied. ®