This article is more than 1 year old
Someone's spreading an MBR-trashing copy of the Christchurch killer's 'manifesto' – and we're OK with this, maybe?
Nah, of course we're not in favor of vigilante malware knackering people's PCs
Hacktivists are spreading booby-trapped copies of the New Zealand mass shooter's Islamophobic rantings, in what is being described as an online "vigilante" operation.
Security house Blue Hexagon claims it discovered a version of the killer's manifesto doing the rounds online containing Windows malware that, when executed with the necessary privileges, reboots the system and leaves the user staring at an anti-racist message. The idea being to punish those who seek out the document, it appears.
The software nasty pulls this off by overwriting the boot drive's master boot record (MBR), a data structure needed to start up the operating system after power on or a reboot, to just display the text, and then restarts the machine for good measure.
While the manifesto – a meme-laden soup of troll-tastic nihilistic nonsense – has been outlawed in New Zealand for inciting murder and terrorism, the file continues to circulate in underground forums. Links to the MediaFire-hosted doctored rant, we're told, were first shared on Twitter, and 8chan – the LinkedIn-for-pedos forum site frequented by the Christchurch gunman whose name is not worth the bytes repeating here.
According to Blue Hexagon, the MBR-altering malware itself isn't embedded directly inside the poisoned manifesto, being sent around as a .docx, but rather it is downloaded and executed by an obfuscated Visual Basic script within the document that triggers when opened and run.
"The weaponized version of the document resembles content from the original manifesto but does have several distinguishing features," Blue Hexagon's Irfan Asrar explained this week.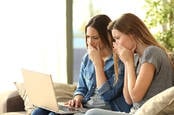 Our amazing industry-leading AI was too dumb to detect the New Zealand massacre live vid, Facebook shrugs
READ MORE
"The metadata from the original manifesto states the author as the name of the alleged suspect who has been arrested in connection with the terror attack, whereas the author info in the weaponized trojan says it was created by the author 'Maori' (a name for the indigenous people of New Zealand). The biggest difference in the weaponized version is the presence of the obfuscated VBA script code that attempts to download a second stage payload."
The script in the document fetches a second file called haka.exe – the Haka being a traditional dance of the Maori, the indigenous people of New Zealand – and here is where the real damage is done. The executable scribbles over the MBR on the host, and then forces a reboot.
As the machine restarts, the user is presented with a black screen and the message in red text: "This is not us!" That's a phrase shared by anti-racists, in an attempt to unite and heal, after attacks by white nationalists.
"Other than being disruptive, there is no motivation; such as a monetary one to be found in this attack," Asrar concluded. Consult your operating system's recovery and repair tools to rebuild the MBR if for some reason you're hit with this malware. ®