Data-slurping biz Palantir scoops US Army contract worth up to $800m – reports
Peter Thiel's firm said to have won face-off against Raytheon
---
Trump fan Peter Thiel's data-mining biz Palantir has reportedly won a lucrative US Army contract, prising it out of the hands of established defence supplier Raytheon.
The deal is said to be worth a potential $800m and represents the first major defence contract that the firm has won. Even though it has long had links with the US government, spy agencies and police (it was backed in its early stages by the CIA's In-Q-Tel VC arm), its contract awards have been small fry compared to the total on offer here.
According to the Washington Post and CNBC, Palantir will deploy a battlefield intelligence system-of-systems for soldiers in remote environments, known as an Army Distributed Common Ground System (DCGS-A).
The US Army describes DCGS-A, which consists of both software and hardware, as its "cornerstone intelligence system for sensor tasking, Processing, Exploitation and Dissemination" that provides "unprecedented, timely, relevant and accurate data" to soldiers.
The Army last year pitted Palantir against Raytheon for the work on the next phase of the DCGS-A, with the Washington Post saying that insiders have long criticised the high costs Raytheon charged for the custom-built systems it provided in the earlier stages of DCGS-A.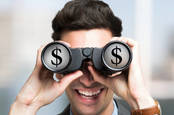 Peter Thiel's Palantir reportedly eyeing up $41bn IPO
READ MORE
The newspaper said the Army had taken the decision to allow the companies to test their software platforms on a live audience of soldiers and then used their feedback to refine their plans.
Being able to adjust the kit in this way was crucial for Palantir's success, the firm's defence business leader Doug Philippone told the paper, and ultimately the Army opted for its software.
A spokeswoman for Raytheon told CNBC that it was disappointed about the US Army's decision, but that this was an "initial delivery order" that "represents a relatively small number of systems". It will continue to compete for future delivery orders, she added.
Palantir was last year rumoured to be eyeing an IPO worth up to $41bn, with reports suggesting it might go public at the start of this year. It was most recently valued at $20bn, and has raised some $2bn since its inception in 2004.
Palantir and Raytheon have been contacted for comment. ®