Ex-NSA contractor Harold Martin has admitted he took home piles of top-secret US government reports and other materials, contrary to security rules and basic common sense.
The 54-year-old, of Baltimore, Maryland, who had worked for Uncle Sam for more than 22 years within a number of NSA departments, agreed in a federal district court on Thursday to plead guilty to a single charge of willful retention of defense information. He had earlier denied the allegation, and has pleaded not guilty to nine other identical counts, which are almost certain to be dropped as part of this week's plea deal.
Martin is said to be facing up to nine years in the cooler, and will be sentenced later this year.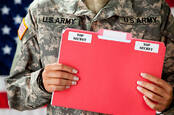 Ex-NSA contractor Harold Martin indicted: He spent 'up to 20 years stealing top-secret files'
READ MORE
When he was indicted [PDF] back in 2017, prosecutors said Martin had spent the better part of two decades harvesting and hoarding digital and printed copies of hush-hush NSA and other government materials at home. Uncle Sam's lawyers estimated Martin had snatched 50TB of secret information.
US government officials feared the files, once outside secured buildings and in Martin's home, could or would fall into the hands of foreign spies and agents.
In his roles as a contractor, and previously while serving in the US Navy between 1988 and 1992, Martin had access to secret and top-secret documents. It is alleged that, beginning in 1996, he began to squirrel away copies of the dossiers in violation of America's national security laws.
"Martin was never authorized to retain these documents at his residence or in his vehicle," the indictment claimed. "Martin knew that he was not authorized to remove National Defense Information and classified documents from secure locations, was not authorized to retain them at his residence, and was not authorized to retain them in his vehicle."
It is suspected that some of the documents ended up in the hands of the hacker group dubbed the Shadow Brokers, who later released NSA exploit code and other materials to the general public. Those cyber-weapons ended up being reused by miscreants in destructive malware, most notably the Wannacry ransomware, that was lobbed at civilian networks.
It is not yet known exactly how the secret data got from Martin's stash to Shadow Brokers, if that were the case, though Kaspersky Lab had reported receiving an offer of exfiltrated NSA docs from someone they believed to be Martin. When he was arrested in 2016, the bloke was working for Booz Allen Hamilton, the same contractor that employed Edward Snowden when he absconded with a cache of NSA slides.
Martin's lawyers, meanwhile, have argued that Martin's actions were the result of mental illness that caused him to become a hoarder, and that the contractor never meant to put classified documents in the hands, or at least in reach, of America's enemies.
Should Martin get the expected nine-year term, he would supersede former NSA worker Nghia Pho for the longest sentence handed down to someone letting slip classified American intelligence. Another ex-NSA employee, Reality Winner, was given five years and three months behind bars for leaking a classified report on Russian election meddling. ®