Are you sure you've got a floppy disk stuck in the drive? Or is it 100 lodged in the chassis?
Bruce Vs Sheila: The Floppy Disk Files
---
On Call It is with great pleasure that El Reg welcomes you once more to On Call, your weekly dose of tech support traumas and triumphs.
This time, we meet "Bruce" and "Sheila". Bruce was working in the IT department at a petrochemical company in South Africa, while Sheila was a PA, who was very nice but terrible with computers.
At some point, the firm decided that senior staff and secretaries would get a hard disk drive in their PCs and run their apps locally so they could work regardless of whether the LAN was down or not.
"We bought a few massive new 80MB hard drives (yes, MB, not GB) and soon everyone was set," said Bruce.
One day, Bruce got an urgent call from Sheila, who said her boss was flying out to the Middle East and needed to put a copy of a document on a floppy disk, but couldn't get the disk out of the machine.
After a bit of back-and-forth, which saw Bruce's boss brought into the problem, the IT duo ran down to find Sheila and Sheila's boss standing at the PC.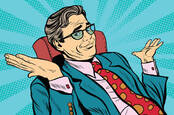 Chap joins elite support team, solves what no one else can. Is he invited back? Is he f**k
READ MORE
"We'd had a couple of instances where people had put two, three and in one instance four floppy disks into a drive at the same time," said Bruce.
"So my boss took control of the situation, took my pliers, walked to the desk and reached to grab the floppy disk – when she noticed something that made her pause."
The disk drive was completely empty.
"Oh, so you managed to get the disk out then, did you?" asked Bruce's boss, with just a little edginess in her voice.
"What? No!" replied Sheila, "It's still in there and I can't get it out!"
At this point, the techies weren't quite sure what to do, and so Bruce asked Sheila to go through her process again, so they could figure out what was going on.
So Sheila went through the process: she opened the document from the file server in Word, inserted the floppy disk, changed the path from X: to C: and then saved the file.
"Sheila," asked Bruce's boss, clearly feeling the strain. "Err, why are you, err saving on C: drive instead of A: drive?"
"C: drive is faster." Sheila replied, "I've seen how long it takes for the other ladies to save their documents, and mine save a lot faster. Besides, I always get errors when I try to save on A:."
At this point, Bruce stepped in. "About that… you didn't actually put the disk into the floppy drive…"
"What do you mean?" asked Sheila, incredulously. "That's where I always put them and I've never had a problem before..."
It turned out that Sheila was putting the floppies into the crack between the rim surrounding the HDDs, which were big and had external faces in those days, and the HDD itself.
"When I moved the monitor out of the way and opened the PC I found over a hundred floppy disks scattered over the (meant to be) sparsely populated internals of the computer," said Bruce. "All of them were blank."
Bruce, putting a positive spin on the incident, said that the team was probably lucky because in a few months, Sheila would likely have reported being unable to insert floppies into the drive because it was full.
"And at least it played out with my boss as a witness," he said. "I'm not sure anyone would have believed me otherwise…"
If you liked that tale of Bruce and Sheila, El Reg has more tucked up its sleeve – so tune in next month to find out what happened when the company moved from floppy to, er, stiffy disk* technology.
And in the meantime, On Call wants to hear your stories of tech support hilarity, so send them in and we might feature them in a future week. ®
* The 3.5" disks with the rigid cases were called stiffy disks by South Africans at the time – to distinguish them from the previous generation of 5 to 8-inch "floppy" disks in the flexible, bendable jackets.