Pecker-checker Becker's hacker wrecker: Saudi cyber-crew stole Bezos' sexts from phone, fed them to tabloid – claim
IT cloud baron's device pillaged, Feds told, while mag denies any hacking, spying
Remember that sordid and strange tale of the National Enquirer publishing Jeff Bezos's sexts sent to his new girlfriend, and then trying to blackmail the billionaire biz baron?
Good. Now, the Amazon supremo's chief private investigator Gavin de Becker reckons the Saudi Arabian government hacked into devices to swipe copies of the CEO's awkward sweet nothings and naked sexy selfies, and passed the cache onto the US supermarket tabloid.
In February, after the magazine published the text messages, Bezos went public with an astonishing open letter claiming the Enquirer was threatening to splash in print and online his crown jewels – specifically, compromising photos of himself sent to his new beau, telly-star-turned-helicopter-pilot Lauren Sanchez.
Unless Bezos and Becker agreed to drop all investigations into Enquirer publisher American Media Inc (AMI) – and sign an agreement that they would publicly state that no spying or hacking was used to secure the scoop, and that there was no political involvement – the rag would publish pictures of Bezos' prime assets, the AWS cloud mogul claimed.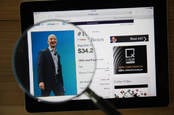 National Enquirer's big Pecker tried to shaft me – but I wouldn't give him an inch, says Jeff Bezos after dick pic leak threat
READ MORE
Now de Becker has finished his probe into the mess, and has handed over his findings to the federal authorities. In an op-ed published this weekend, he claimed AMI is desperately trying to cover up that the pictures came from a Saudi government hacking crew: the publisher is accused of strongly hinting the images and messages were provided by someone within Bezos or Sanchez's inner circle, to deflect attention away from the true source, according to de Becker.
"Our investigators and several experts concluded with high confidence that the Saudis had access to Bezos' phone, and gained private information," he wrote in his Daily Beast piece. "As of today, it is unclear to what degree, if any, AMI was aware of the details."
From the very start it seemed possible the source of the private snaps and sexts was Michael Sanchez, the now-estranged brother of Bezos' new girlfriend Lauren, who somehow got a glimpse of the raunchy messages and sent them to his pals at the Enquirer, including boss David Pecker. This was seemingly confirmed by AMI but De Becker said that he smelt a rat.
"What was unusual, very unusual, was how hard AMI people worked to publicly reveal their source's identity," he opined. "First through strong hints they gave to me, and later through direct statements, AMI practically pinned a 'kick me' sign on Michael Sanchez."
Two things stood out, he claimed. Firstly, rather than Michael Sanchez approaching the Enquirer, it was the publication that first approached Michael Sanchez: the magazine already knew of the fling between his sister and Bezos, and had already seen text messages between them, it is claimed, so the rag had another source, according to de Becker.
Secondly, when the blackmail demand was sent, AMI's lawyers asked Bezos to avow there wasn't "any form of electronic eavesdropping or hacking in their news-gathering process." They also wanted a statement that the story wasn't "instigated, dictated or influenced in any manner by external forces, political or otherwise." Funnily enough, up until that demand was sent over, no one had mentioned anything about hacking, snooping, or external or political forces, said de Becker.
The private dick noted: "I'd never publicly said anything about electronic eavesdropping or hacking — and they wanted to be sure I couldn't. They also wanted me to say our investigation had concluded that their Bezos story was not 'instigated, dictated or influenced in any manner by external forces, political or otherwise.' External forces? Such a strange phrase."
In other words, AMI was working overtime to silence claims that hadn't been publicly made, and was trying to point the finger at a secret source, which journalists don't normally do, according to the investigator.
Saudi shenanigans
De Becker now says that his investigations into AMI prior to the knob pics kerfuffle had shown an increasingly close relationship between the publishing company and senior Saudis, notably Crown Prince Mohammed bin Salman (aka MBS).
He claims MBS and others were angered by the Bezos-owned Washington Post making so much noise about the murder of one of its writers, Jamal Khashoggi.
According to de Backer, the Saudi's unleashed a social media campaign against Amazon and Bezos last October. But he also claims that they hacked into Bezos' smartphone, and other devices, presumably using malware developed by companies like NSO Group and others, to dig up any dirt. And that, it is alleged, is how the sexts ended up in the Enquirer's hands.
"Despite the false and unsubstantiated claims of Mr de Becker, American Media has, and continues to, refute the unsubstantiated claims that the materials for our report were acquired with the help of anyone other than the single source who first brought them to us," said AMI in a statement.
"The fact of the matter is, it was Michael Sanchez who tipped the National Enquirer off to the affair on Sept 10, 2018, and over the course of four months provided all of the materials for our investigation. His continued efforts to discuss and falsely represent our reporting, and his role in it, has waived any source confidentiality. There was no involvement by any other third party whatsoever." ®