CBRE, the world's largest commercial real estate services and investment firm, has launched a speciality brokerage focused on data centres.
The new Data Centre Capital Markets business is led by SVP Kristina Metzger, who spent nine years at the company's Data Centre Solutions (DCS) division. It is aimed at investors who are interested in "alternative property types."
CBRE describes its Capital Markets offering as combining investment sales, advisory, financing and investment banking into a single, fully integrated global service.
According to the company, more than $12bn was invested into North American data centres in 2018 alone.
"Demand for data centre investment has never been greater as aggressive foreign capital, institutional investors and infrastructure funds have started targeting the asset class," Metzger said.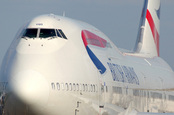 BA IT systems failure: Uninterruptible Power Supply was interrupted
READ MORE
"As many of these groups enter the space, they are targeting direct investments and also joint ventures, recapitalizations, and the outright purchase of data centre operating companies. There have never been more creative solutions to capitalize data centre transactions than there are today."
Data centres are already an important part of CBRE's business: DCS manages and maintains more than 800 bit barns worldwide on behalf of its customers.
You might remember CBRE as the company that absolutely, positively, had nothing to do with the major 2017 outage in a British Airways data centre (that CBRE was supposed to be looking after) which grounded as many as 672 flights and cost the airline an estimated £58 million in compensation claims.
Eighteen months later, BA sued CBRE – early reports blamed the contractor for messing up the facility's power systems. In February, the case was settled out of court, with no admission as to liability. The two companies continue to work together. ®