It was all Yellow: Mass email about a Coldplay CD breaks the internet
Let's be honest, probably for the best no one could buy the record
---
Who, Me? Monday mornings are your time to grimace with other Reg readers over their technical mishaps in our weekly column – Who, Me?
This week, we hear from "John", who was working for one of the biggest retailers in the UK back in the days when the spectre of the EU's GeDPR hadn't scared companies into data protection compliance, and Coldplay were popular.
This retailer was "just getting to grips with the internet thing", John said. "It had gathered about 10 million emails from the general public who were possibly interested in receiving money-off coupons."
The firm had got its hands on a few hundred thousand CDs of Coldplay's "very anticipated latest album".
They wanted to tell everyone that the music-for-people-who-don't-like-music could be bought online at low, low prices, so they told John's team to prepare an email to send out to the entire list.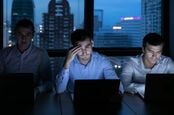 Techies take turns at shut-down top trumps
READ MORE
Of course, John and his colleagues realised this wasn't that wise.
"Naturally we told them it wasn't a very good idea, as they were using a third-party site and payment gateway that might not be able to cope with the traffic," he told us.
But the retailer didn't care; it wanted a mass Coldplay email.
"They told us in no uncertain terms that once their price was announced the other massive retailers would lower their prices and out-compete them, this could under no circumstances happen," John explained.
And so his team reluctantly pressed the button… and watched as chaos ensued.
"Retail site after retail site went to stasis, then crashed, as the general public – knowing it was on a first-come, first-served basis – panic-bought the album," John said.
No, we can't imagine panic-buying Coldplay CDs either, but, hey, there's no accounting for taste.
Anyway, John went on to say that almost everyone on the payment gateway crashed, which included national museums, international media organisations, retail rivals, overseas sites and more.
And so, that's how one of the UK's largest retailers and Chris Martin's "music" broke the internet.
"I'm sure this kind of thing doesn't happen any more," John remarked, wryly.
If there's been a time something you did – or were forced to do – brought down usual service for your customers, or indeed for normal people trying to buy tickets to museums rather than Coldplay records, get in touch with Who, Me? here. ®
Similar topics
Broader topics