Move over Disney superheroes and endless reboots – a three-year-old B movie has proven that Narnia can tell what's going to be the mane attraction (sorry – Ed), and that China is the market to crack.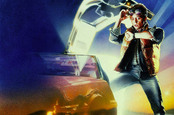 Great Scott! Is nothing sacred? US movie-goers vote Back To The Future as most-wanted reboot
READ MORE
2016 Dutch horror flick Prooi (Prey), which is about a monstrous lion leaving a trail of carnage through, er, Amsterdam, grossed a dismal €231,548 ($260k, £198k) in its home country.
The movie amazingly is not the first film about human-stalking lions to be called Prey, although the first has the cats quite excusably munching on tourists "on safari" in said lions' backyard. The three-year-old flick has a few items that were catnip only to a small subset of the Dutch population: a big cat running "wild" in the multi-canalled city's central public garden – the sedate 47-hectare Vondelpark – while being pursued by perplexed, unhurried cops; a military type in an eye patch; and – most plausibly, in our opinion – an annoyed street-sweeper cleaning big cat poop from between the tram lines and cobblestones of Amsterdam's streets.
Scroll to the trailer at the end of this article and you might be able to see why it was savaged in domestic theatres.
However, repurposed as Violent Fierce Lion (狂暴凶狮 Kuangbao Xiong Shi), the 22 March release of the film shot to number three on its opening day, soaring past other (more timely) imports like Bohemian Rhapsody and Captain Marvel.
By the end of the week, it was sixth biggest film in the massively populous country, according to Screen Daily, reportedly grossing $5m, which is an about-turn for a movie seen by only 30,000 people at home in 2016 and – apparently – the first Dutch film ever to be shown in China.
"It is possible that it was not marketed well enough here," director Dick Maas lamented to online Dutch newspaper NU.nl. "People may not understand whether it was a comedy or a horror."
On the other hand, the film's Chinese suitors went balls to the wall "with a wave of teaser trailers and original art work for the Chinese market including huge posters of the lion running amok", Screen Daily reported.
Incredible Film, the Amsterdam-based international sales agent, began negotiating an all-rights, flat-fee deal for the title in 2018 with China's Star Alliance.
The roaring success of the cinema release gave Incredible founder Danielle Raaphoorst paws for thought. She said she expected a TV and VoD release, but after six months of wrangling, Star Alliance placed an order to show the film in 400 screens.
This was soon revised up to 4,000 due to a "huge amount of interest".
Maas is now concentrating his efforts on the Chinese market. "I have been setting up a production in China for a while now," he told NU.nl. "That is going very slowly, who knows, it may be accelerating now. It is a difficult market, only a certain number of foreign films are allowed in. I hope this film will get people convinced to try something with me. In the Netherlands it remains difficult, I have been rejected by the film fund with my latest projects. So if someone else gives me a chance, under nice conditions and artistic freedom, I will not say no."
Maas also noted that it was a "pity" how the flick had been flogged off. "You can hardly make royalty agreements with China. You usually sell the film for a fixed amount. But nobody expected this... Next time I will arrange things differently."
Like the film's fodder, The Register can only say "gutted, mate." ®
Sponsored: Webcast: Ransomware has gone nuclear