Googlers, eggheads urge web giant's bosses to kick top conservative off its AI ethics council
One panellist quits, another decides to stay and listen
Over a thousand Google employees and members of the machine-learning community have signed a petition urging the ad giant to remove Kay Coles James, president of conservative think tank the Heritage Foundation, from its external AI ethics board.
Last week, Google announced the launch of the Advanced Technology External Advisory Council (ATEAC). The organisation is made up of non-Googlers, and was set up to ensure Google sticks to the AI principles it drafted following Project Maven – that whole killer drone debacle with the US military.
Project Maven was scrapped after the web search king faced a backlash from its own employees. Now, its workers have struck again, this time with another petition accusing James of being "anti-trans, anti-LGBTQ, and anti-immigrant." It has amassed 1,072 signatures so far, the vast majority of people supporting the petition are Googlers, others include academics and tech workers in the AI community.
"In selecting James, Google is making clear that its version of 'ethics' values proximity to power over the well-being of trans people, other LGBTQ people, and immigrants. Such a position directly contravenes Google's stated values," according to the petition.
The petition pointed out a few of James' tweets. One, referring to US President Donald Trump's immigration stance, said: "We have a crisis at our border: thousands of illegal aliens, dangerous criminals, drug smugglers and sex traffickers crossing the border every day." In another tweet, James seemed to refer to transgender women as biological men.
Today @heritage will critique gender identity @UN_CSW because powerful nations are pressing for the radical redefining of sex. If they can change the definition of women to include men, they can erase efforts to empower women economically, socially, and politically. #CSW63

— Kay Coles James (@KayColesJames) March 20, 2019
The #EqualityAct is anything but equality. This bill would shut down businesses and charities, politicize medicine, endanger parental rights, and open every female bathroom and sports team to biological males. Learn more here: https://t.co/eJPDvfJKEs

— Kay Coles James (@KayColesJames) March 21, 2019
One academic listed as part of its inaugural council announced that he had already left the board last weekend. Alessandro Acquisti, a professor of information technology and public policy at Carnegie Mellon University, said on Twitter:
I'd like to share that I've declined the invitation to the ATEAC council. While I'm devoted to research grappling with key ethical issues of fairness, rights & inclusion in AI, I don't believe this is the right forum for me to engage in this important work. I thank (1/2)

— alessandro acquisti (@ssnstudy) March 30, 2019
It's not clear if Acquisiti retracted his decision to join the board or if he turned Google's request down. He didn't say whether his reasons for leaving was related to James or not. The Register has asked Acquisiti for comment.
Joanna Bryson, an associate professor of computer science at the University of Bath, is also listed as an inaugural member for the ATEAC. "I am on ATEAC because I think integrating the tech giants into global governance is one of the most pressing problems on the planet, with consequences for democracy, sustainability, and the rule of law," Bryson told The Register.
"I firmly believe the world will be a better place if Google has access to what I know and am willing to share, and if I know more about what Google believes and is willing to do. Google have indicated they have specific questions and once I've heard them I will know whether I'm willing to answer them."
She told El Reg that she thought "fairness [isn't] a relevant issue" regarding the petition to remove James. "I am openly liberal and as such I believe that bullying and shunning are problems, not solutions. If she has done things that are illegal then she should go to jail. If she has done things that should be illegal but are not, then we should work together to change the laws."
"If she is in the room when I'm talking to Google, then I will try to learn from her like I try to learn from everyone, and I will try to persuade her to my perspective, as again I would do with anyone."
One tech worker, who signed the petition, disagreed. "People who've expressed opinions as damaging and harmful as James' should not be influencing the development of AI at a global company where this tech will be used by so many entities, including our own government," they told El Reg on condition of anonymity.
"Her opinions will serve to further undermine and obscure the causes that the trans community has pushed so hard to bring to light. Would she allow for trans inclusion in data collection processes, for example? Or would she continue to claim that transness or the LBGTQ community in itself is morally wrong?"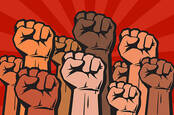 Google internal revolt grows as search-engine Spartacuses prepare strike over China
READ MORE
Liz O'Sullivan, former head of annotations at AI startup Clarifai also signed the petition and believes James was appointed for her close ties with the Trump administration. Several current and ex-employees of the Heritage Foundation work for the current government.
"I also think it's pretty clear why this board was assembled in the wake of some very critical comments from the Trump administration," she told The Register.
"They're under fire for pushing into China while refusing to work on Project Maven, giving way to claims that they are unpatriotic or in some way working with our rivals.
"The inclusion of James indicates that Google is interested in repairing relations with Trump and his supporters, most likely in order to guarantee their eligibility in future contracts as our government begins to push AI into every branch."
Trump met Google CEO Sundar Pichai last week after he accused the search engine giant of working with China's military, whilst turning its back on the US. After the meeting Trump changed his tune and said Pichai assured him that Google was "totally committed to the US military."
Google and the Heritage Foundation were both unavailable for comment. ®