IBM soups up Storwize arrays: Let them eat cache, IOPS, capacity
New entry-level and mid-range bring NVMe fabric acceleration
---
IBM has replaced its entry-level Storwize arrays with faster boxes and introduced an NVMe-oF accelerated mid-range.
The hybrid Storwize arrays had four products in the V5000 entry-level line – V5010, V5020, V5030 and V5030F (all-flash) – and V7000 and V7000F (all-flash) arrays at the high end.
Now the V5000s have been switched out for the V5010E and V5030E. The V5100 and V5100F (all-flash) make up a new mid-range.
Both the V5000Es and V5100s support end-to-end NVMe, but the V5100s have much larger cache memories – a 64-576GB single box versus the 32-64GB range of the V5000Es.
The V5010E has four times more cache than the V5010, and twice its maximum (but unspecified) IOPS, and scales to 12PB maximum flash capacity, courtesy of new 30TB flash drives.
The V5100 supports FlashCore Modules, IBM proprietary drives, with hardware-assisted data reduction, and capacities of 4.8TB, 9.6TB and 19.2TB.
The V5010E is 30 per cent cheaper than the V5010 and can be upgraded to the V5030E. IBM said it's a good fit for edge storage, virtual and containerised environments.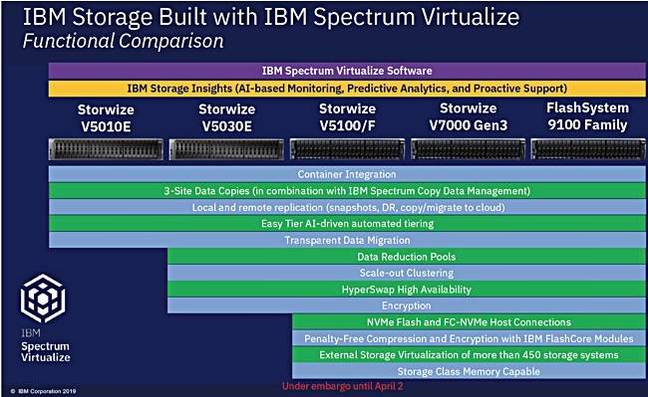 Click to enlarge
The V5030E has data reduction features; both compression and deduplication. It can use 30TB flash drives, and scales to 23PB of all-flash storage in a single system; 32PB with two-way clustering. It has, IBM said, a 30 per cent lower street price than the replaced V5030 and 20 per cent higher maximum IOPS.
The V5100s have accelerated NVMe drive and NVM-oF performance. They can have 2PB of flash in a 2U chassis, and they scale out like the V5030F, with 23PB of all-flash storage in a single system or 32PB with two-way clustering. They also have nine times more cache than the V5030, and pump out 2.4x more IOPS than the V5030F (with data reduction, costing 10 per cent more.
IBM said the V5100s are ready for storage-class memory and 32Gbit/s Fibre Channel. Like the V7000, they support end-to-end NVMe.
Storage Insights, a cloud-based management and support tool, provides analytics and automation.
In other news
Spectrum Virtualize, the management and virtualization software used in the Storwize and FlashSystem arrays, is now available on AWS.
IBM is supporting the Container Standard Interface (CSI) to speed storage provisioning for its storage, and plans to add a container-native software-defined storage capability for Spectrum Virtualize (block) and Spectrum Scale (file.)
Check out Storwize V5000E product specs here and V5100 here. ®