A better Google Glass
North is selling its non-creepy version of Google Glass: a pair of glasses with a small projected image that connects to your phone and gives you updates.
We tried them out. It's pretty good. You have a small patch of information appear in front of your right eye a perceived six feet away. It provides you with the time and date and then you can use the app to choose what other alerts you want to receive.
You're not going to want to have your Twitter feed connected but it could be very useful for incoming calls, or your calendar, or walking directions – all of which were demonstrated and worked well.
Again though, there are constraints. As with Magic Leap, human beings eyes and faces are non-uniform so each pair of glasses has to be made to work well with your face. The company has a mobile unit where you sit down and its takes photos of your face to create a custom set of glasses. And it has two stores – one in Toronto, one in Brooklyn and one that will apparently open in the Bay Area soon.
All this customization is not cheap: the glasses will cost $599 non-prescription and $799 with a prescription. We're not sure that someone who doesn't have to wear glasses will want to do so – and pay $600 – just to get occasional updates in front of their eyes rather than look at their phone.
And, as anyone who wears glasses every day will tell you, you will at some point drop them. And keep dropping them for as long as you have them. Glasses are not cheap: they range from cheap frames at $100 or so up to $1,000 or so for designer brands. But they do tend to be pretty robust. How long By North's glasses would stand up to daily punishment, it's not clear.
Oh, and there is only one design: the classic Ray-Ban style. Although it does come in several colors. The truth is that this glasses-wearing reporter was tempted to get a pair at the special conference price of $250 (presumably the unit cost to the company) but ultimately, it just seemed like a lot of trouble just so I didn't have to pull out my phone.
Bye bye blur
And lastly – blurry images. We spoke to another company, Almalence which promises to alleviate one of the most frustrating aspects of VR headsets – poor resolution.
The CEO of the company saw the story we wrote recently about Facebook's new Oculus headset in which we complained about the fact that it still feel like you are staring at a phone screen in front of your face.
Almalence's argument follows the same thread as the issue that Magic Leap and North are struggling with – the imperfection of the human eye/face structure, especially when objects are very close.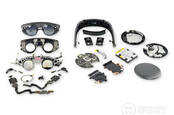 Teardown chaps strip away magic from Magic Leap's nerd goggles
READ MORE
VR headsets don't account for the fact that your eyeballs are also lenses and so the images you seen on headset screens get a bit blurry. So the idea is to adjust the screen to account for that. It uses a software algorithm to adjust the feed in real time and, based on the demo that we had, it works. Their system provides a much sharper and rounded image, which make the whole virtual environment feel less artificial and more comfortable.
Of course, it was their demo so they could well be exaggerating the impact of its software adjustment. But here's where it might be exciting – and might solve big problems for everyone: the Almalence reps agreed that, yes, theoretically, their system could be use to adjust the image you see to account for people's eyesight.
In other words, rather than having to figure out how to deal with people's varying eyesight, you could create a software model to adjust an image for you to fit their eyesight. That could massively significantly simplify headset design.
In summary: people are continuing to plug away at AR and VR and they are making progress. But we're waiting until next year before we vote with our wallet. ®