This article is more than 1 year old
Mystery of the Chinese woman who allegedly tried to sneak into Trump's Mar-a-Lago with a USB stick of malware
She faces two federal charges after apparently getting as far as reception
A Chinese woman was caught sneaking into President Trump's Mar-a-Lago country club with a thumb drive of malware, it was claimed yesterday.
Yujing Zhang, 32, was collared after possibly trying to slip into a bash at the swanky resort promoted by Li "Cindy" Yang, the former massage parlor boss who denies allegations she sold access to the president and his family.
Zhang had on her a thumb drive containing some unknown malware, plus four cellphones, a laptop, and an external storage drive, when she was nabbed by US Secret Service, it was claimed.
The software nasty could, of course, be run-of-the-mill crap that accidentally ended up on the USB stick, rather than some sort of scary spyware that was part of a deliberate plot to bug computers at Mar-a-Lago. We'll probably find out soon enough: Zhang was charged [PDF] on Monday with making false statements to a federal officer, and entering restricted property.
It's claimed Zhang, on March 30, tried to enter the president's exclusive club in southern Florida by telling US Secret Service agents manning the gates that she wanted to use the pool, although she had no swimsuit.
When the g-men told her she wasn't on the access list, a resort manager suggested she was the daughter of a member, to which Zhang gave an ambiguous nod, it was claimed – the agents suspected a language barrier was preventing her from fully explaining her situation.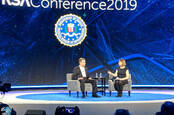 FBI boss: Never mind Russia and social media, China ransacks US biz for blueprints, secrets at 'surprisingly' huge scale
READ MORE
And so, with that, a valet was allowed to pick her up and drive her in through the grounds on a golf cart, it is claimed. However, Zhang couldn't say where exactly she wanted to go, and was dropped off at the reception desk, it is alleged.
There, she tried to claim she was attending a United Nations Chinese American Association conference, an event that wasn't scheduled, it was alleged, and was swiftly frogmarched off the property. She may have been referring to an event at the country club Yang earlier promoted on Chinese-language social media.
Zhang next explained to Secret Service agents that a friend called Charles she met online had asked her to fly from Shanghai, China, to Palm Beach, and find and speak to President Trump's inner circle about Chinese and American biz relations, we're told. That "Charles" may be Charles Lee, a Chinese event promoter who previously worked with Yang.
The g-men noted Zhang had no problem reading and speaking English.
She was cuffed and charged, and is due to appear in court on April 8. Her lawyer, public defender Robert Adler, declined to comment. If convicted, she faces up to five years in the clink and fines of up to $350,000.
There is no indication she is in any way connected to Yang nor Lee, nor that she got anywhere close to the president, who was staying at the club with his family that weekend. ®