No Widevine DRM for you! Developer left with two years of work stymied by Google snub
Take your media viewing ideas somewhere else
In theory, the open source nature of web technology should allow anyone with the appropriate skills to innovate and implement an alternative browser.
In practice, however, the path is gated where high value media is involved, because the major browser makers incorporate Digital Rights Management (DRM) technology and the firms that license DRM keys don't have to be responsive or support new ideas.
Developer Samuel Maddock found this out to his cost. He's been working on an open source Electron-based (Chromium) browser called Metastream that allows users to stream videos in sync with one another. It's designed to be a way for friends to watch shows together even when they're apart.
But Google's Widevine DRM business doesn't want to work with him. After four months of waiting, the firm responded to his request to license their proprietary DRM code, in conjunction with the castLabs API, with a denial.
"I'm sorry but we're not supporting an open source solution like this," says the note from Widevine, which Maddock posted to his website.
The Register asked Widevine and Google to comment. We've received no reply.
In a blog post on Tuesday, Maddock lamented, "For the last two years, I've been working on a web browser that now cannot be completed because Google, the creators of the open source browser Chrome, won't allow DRM in an open source project."
Chrome, for what it's worth, is Google's proprietary implementation of the open-source Chromium project. Maddock wasn't immediately available to elaborate on his situation.
There aren't a lot of options to complete Metasteam as an Electron (Chromium) project. Chromium doesn't support Widevine, which is Google Chrome's only supported DRM system, though it can download the Widevine module and use it given the right license and tooling.
Other platforms have to rely on other DRM systems. Apple uses FairPlay. Microsoft uses PlayReady. Adobe uses Primetime. And Intertrust last year, in conjunction with Sony and others, debuted Marlin, an aspiring open standard for closed technology.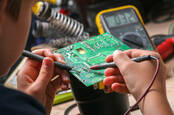 From today, it's OK in the US to thwart DRM to repair your stuff – if you keep the tools a secret
READ MORE
Browsers and other apps can't stream videos from major content providers legally without integrating some form of DRM system. The problem is DRM providers don't have to be cooperative.
As Maddock points out, Brave faced delays over Widevine's lack of responsiveness in 2017 while trying to support Netflix videos. Other developers using Electron have observed that it can takes months to get a certificate, passphrase, and key from Google to integrate Widevine.
The balkanized DRM landscape means Maddock, absent approval from Widevine, may have to give up making a desktop version of his browser or turn it unto a less capable Chrome browser extension – which could become less capable still given Google's pending revision of its Manifest v3 extension specification. In any event, Maddock isn't keen to publish Metastream as a Chrome extension in the Google Chrome Web Store because that would "further entrench the project into a Google walled garden."
It's either that or innovate without involving media playback. ®