This article is more than 1 year old
They're buying into the hype: Hyperconverged system kit sales hit $4.15bn for Q4 2018
Dell/VMware and Nutanix dominate, HPE best of the rest
Number crunchers at IDC told the world this morning that international converged systems market revenue grew 14.8 per cent year-on-year to reach $4.15bn in the final quarter of 2018.
HPE and other hyperconverged also-rans found themselves once again grabbing at the tail end of a burgeoning converged-slash-hyperconverged market that is – yet again – completely and utterly dominated by Dell's EMC and VMware businesses, with a healthy slice being eaten by HCI specialist Nutanix.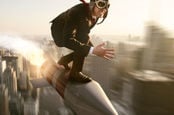 Joy to the vendors, HCI's day has come. And converged ... becomes less... of a thing – IDC
READ MORE
Hyperconverged infrastructure (HCI) systems are now dominating this market, with Dell/VMware and Nutanix calling the shots.
The converged systems market is divided into three segments by IDC: certified reference systems and integrated infrastructure, integrated platforms, and hyperconverged systems.
In the fourth 2018 quarter:
Hyperconverged systems grew 57.2 per cent year-on-year, with $1.9bn in revenue – amounting to 46.5 per cent of the total market.
The certified reference systems and integrated infrastructure market generated $1.6bn in revenue – a year-on-year decline of 6.4 per cent – comprising 38.6 per cent of total converged systems revenue.
Integrated platforms sales declined 8.4 per cent year-on-yearto $619m (14.9 per cent of the market).
Big-ticket CI boxes are being overtaken by low and mid-ticket HCI systems.
An IDC chart shows a five-quarter overview of the market: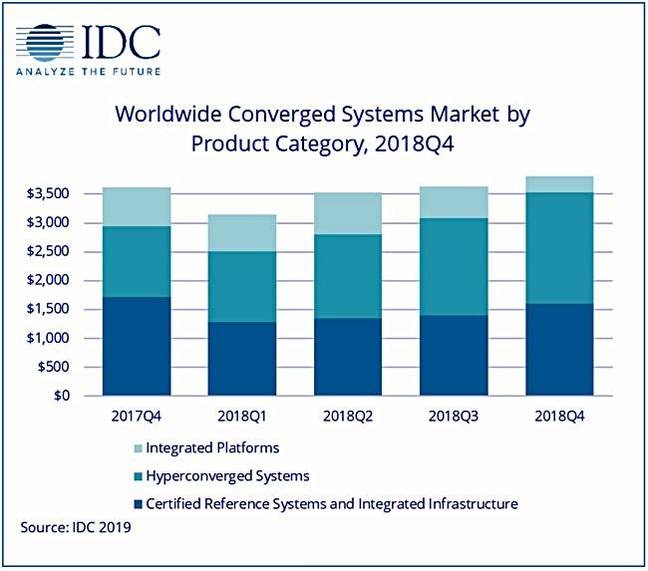 Despite the year-on-year decline in certified reference systems, that market sector has grown for three quarters in a row, although HCI has grown more rapidly.
The top three suppliers in the hyperconverged market were Dell, Nutanix and HPE.

Dell outgrew the market, as did HPE, but Nutanix fell back. The effect of this was reflected in Nutanix's latest quarterly numbers.
As considerable reselling goes on – with, for example, Dell reselling Nutanix software – IDC produces a separate table of revenues for the HCI software owner:

By this metric, VMware is top, strongly outgrowing the market, with Nutanix second.
In general HCI systems are growing strongly but they are not killing off converged systems – yet. ®