This article is more than 1 year old
SUSE to celebrate its Independence Day by eating something multi-cloud management-y
That's 15 March btw, when Micro Focus dumped profitable bits
SUSECON '19 SUSE CEO Nils Brauckmann could scarcely contain his glee as he bounded on stage to deliver his keynote before the thousand or so attendees at this year's SUSECON summit in Nashville, Tennessee.
Alongside SUSE's president of strategy, Michael Miller, Brauckmann threw shade on the competition, declaring to the audience that the outfit would soon be the largest independent open-source company "as the Red slowly gets sucked into the Blue".
After being acquired by private equity firm EQT last year, as Micro Focus offloaded its profitable bits, SUSE declared its independence on 15 March. If the negotiations caused tremors within the open-source veteran, Brauckmann didn't show it.
Of course, SUSE is no longer obliged to publish its figures, although Brauckmann assured us that he would "continue to update the market". Year-on-year revenue growth stands at "a little bit more than 15 per cent", he said.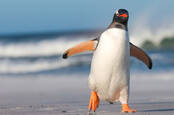 Micro Focus offloads Linux-wrangler SUSE for a cool $2.5bn
READ MORE
Brauckmann also highlighted the size of the company, which is heading toward 1,750 heads across the world, having added another 300 in the last year alone.
Though the company may have regained its independent groove, challenges lie ahead. In an interview with The Register, Daniel Nelson, VP of products and solutions, was excited at the possibilities afforded by independence, telling us: "If we execute well and we perform well, then the sky's the limit for what we can do," before cautioning: "But if we don't seize this opportunity, it's unlikely this kind of synchronicity of events is going to happen again."
Brauckmann said he sees the future of SUSE in the multi-cloud world, telling us that while enterprise Linux or software-defined infrastructure vendors were not in his acquisition cross-hairs, "where I would want to advance my capabilities faster is in the area of multi-cloud management".
Because the company already has containers down, he reckoned that both existing and potential enterprise customers were on the lookout for "more advanced management tools, security tools, container networking tools that sit over and above Kubernetes and enhance Kubernetes".
Red Hat, IBM and the future
While Brauckmann poked a bit of fun at IBM's acquisition of Red Hat during his keynote, he told us that Big Blue continues to work with SUSE "the same way they did before", reckoning that it was very much in IBM's interest not to lose SUSE as a partner. "Let's not forget that there are customers out there that use, for example, Enterprise Server on the IBM mainframe since more than a decade."
However, there are now just two major independent players in the Enterprise Linux landscape – Canonical and SUSE. Brauckmann visibly bristled when it was pointed out that SUSE itself could now be a target for acquisition.
From the company's new owners, "the clear mandate is to follow a five-year plan or more". Brauckmann did, however, concede that there would come a time when the Linux slinger might once again change hands: "Private equity companies own companies, and one day they don't want to own those businesses any longer."
Every investor has an exit plan.
Brauckmann's preference for the next change of ownership would, unsurprisingly, take the form of an IPO.
However, having joined the company from Attachmate in 2011, and since occupied the president's chair then the CEO hot seat, Brauckmann has no plans eject, but wishes instead to steer the ship into an "open open" future.
"Walk Like A Chameleon", indeed. ®