This article is more than 1 year old
Pure Storage swallows Swedish filer biz for its, er, purely file storage software
Gulps down firm for undisclosed number of kronor
All-flash array supplier Pure Storage has bought Compuverde, a Swedish scale-out filer software business, giving it an entrée into the classic file storage market.
Last February, IBM OEM'd Compuverde's product as its Spectrum NAS, positioned as scale-out NAS with less file storage capabilities than Big Blue's high-end Spectrum Scale parallel file access product.
Pure Storage's would-be Data Domain killer out in March – but it's still shy about the internals
READ MORE
Compuverde was founded in 2008 by CEO Stefan Bernbo, system architect Christian Melander and software inventor Roger Persson. The company's funding history has not been revealed and neither has the acquisition price.
Pure will receive scale-out filer software that is selling now and already has a partner ecosystem. It has not said in any detail how it intends to develop the Compuverde software.
Charles Giancarlo, Pure's CEO, said in a prepared quote: "We're excited about the opportunities that the Compuverde team and technology bring to Pure's existing portfolio."
That indicates Compuverde software could be being added to Pure's FlashArray, FlashBlade and ObjectEngine product lines.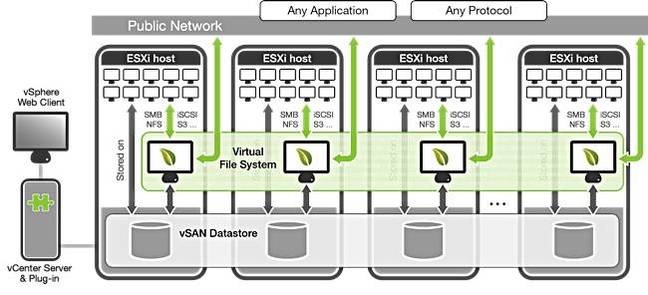 Compuverde filer software and VMware
It could offer unified file and block storage – as Dell EMC does with its Unity arrays and NetApp with its ONTAP arrays. It could also head into the HPC file market with fast scale-out filer flash boxes and compete with Isilon and Qumulo and others.
Giancarlo continued: "As enterprises look to leverage the innovations of the public cloud in conjunction with their on-prem solutions. Through our expanding suite of hybrid data solutions such as Cloud Data Services, we continue to help our customers make the most of their data assets."
The Reg's storage desk believes this may hint that the Compuverde software could run in the public cloud and provide a hybrid on-premises-public cloud file store.
Pure and its channel now have the ability to cross-sell file services to their existing customers as well as strike out in new scale-out filer directions. Whether all of Compuverde's partners will stick with Compuverde as it transitions to new ownership could be a moot point.
Will IBM, for example, wish to continue OEM'ing the software when it is owned by a strong FlashSystem array competitor? ®