This article is more than 1 year old
Edtech will save our schools from cuts and spare our teachers from burnout, booms UK.gov
But handle with care to dodge dominance of Google, Microsoft
Schools have been told to increase their use of tech to ease the burden on teachers, better prepare their students for the world of work and bring kit into the 21st Century.
The British government today issued its education technology strategy, along with guidance to help schools choose the right broadband, assess their ICT infrastructure (or, we suspect, lack thereof), and move to the cloud.
The strategy sets out 10 of the common problems in schools that could be tackled with greater use of tech. They include reducing cheating, levelling the playing field for people with special educational needs and improving teachers' learning and development.
But there is also the hope that increased use of tech will cut costs for cash-strapped schools that have been operating on shoestring budgets and the goodwill of worn-out teachers for many years. For instance, it talks about technological solutions for marking, timetabling and assessment processes.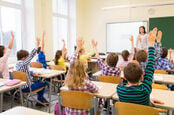 Children of Wales to be prepped for the vibrant world of work with free Office 365 ProPlus
READ MORE
There will also be a series of "demonstrator" schools and colleges to showcase best practice and offer support and training for teachers, lecturers and school leaders, supported with free online training courses from the Chartered College of Teaching.
"It's about time that education technology was getting more recognition," Giles Hill, who provides IT teaching and training at Digital Learning Cornwall, told The Register.
"We are, apparently, in the 21st Century, but you go into primary schools and it's like going back to the 1980s, especially because of the curriculum changes that came in five years ago."
He said the strategy suggested top brass at the Department for Education now recognised the value of internet-based technology, and that he was particularly encouraged by the demonstrator schools initiative.
But efforts to bring more tech into classroom would need to be handled carefully, ensuring less tech-savvy teachers still had face-to-face training, and that introducing new tools was not a burden on schools, Hill added.
Another problem, according to Jen Persson, director of children's privacy group Defend Digital Me, is that a lot of the tech on offer to schools isn't fit for purpose.
"There is no shortage of vendors falling over themselves to want to get a foot in the door of the estimated $8bn global education market," she said. "So far, there is little we've seen on the market that is really delivering for schools, or that is safe and transparent... for staff and children."
Some of the vendors clamouring at the door are better known, and better positioned to grab hold of the market. And, despite the government repeatedly saying it wants to work with SMEs, the strategy PR came complete with canned statements from edtech goliaths Microsoft and Google.
As well as concerns that their dominance could stifle innovation and competition in the sector, there is the risk of schools getting locked in to certain products – some of which are provided at incredibly low costs under exlcusive licences.
It's also possible kids will be influenced by the brands they encounter early on – a handy marketing tool for big businesses.
Hill said it would be good to have "less explicit branding" on products used in schools, saying he is "uncomfortable with big name tech splashed on anything in schools".
Persson's concerns also run to data protection and privacy issues and the fact that "sector knowledge is flooding out into commercial hands".
Moreover, she argued that it isn't clear how much UK schools are spending on these companies, or how much free training and low-priced kit they accept – and what it is in exchange for.
"We need a much more honest debate in the coming months of the strategy next steps about corporate capture of the UK education infrastructure and the curriculum, before it's too late," she said.
"We might look back in surprise when the long-term choice future parents end up with is whether to send their child to either a bricks-and-mortar Google school, or a virtual one." ®