This article is more than 1 year old
Capita bags £13.2m Police Scotland deal for crime-snooping tech
Picking up slack from doomed Accenture IT contract i6
Outsourcing badass Capita has gulped down a tasty £13.2m morsel dished out by the Scottish Police Authority: namely, the deal for Police Scotland's Core Operational Solution (COS).
The contract (PDF) – procured via a tender in the Digital and Technology Services (DATS) framework – will run over 10 years.
While a £1.3m-a-year gig won't do much more than whet Capita's appetite for enormously expensive public contracts, it will be a very important deal for the people of Scotland, as the services delivered will include a suite of applications that will change how it manages information regarding "investigating crimes, reporting cases, locating missing people and dealing with other critical operational policing enquiries".
COS is part of the country's Digitally Enabled Policing Programme (DEPP), destined to replace some of the services provided by the ill-fated Accenture IT contract, i6, which was terminated back in August 2015.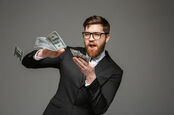 Capita: B is for Brexit, C is for cutting costs. Stock exchange: Yay! You guys are awesome
READ MORE
i6 was such a colossal bungle that Accenture had to pay £24.65m back to the Scottish Police Authority (in July 2016), refunding the £11.1m that it had been paid until that date, as well as throwing in a £13.6m settlement. A 2017 report by Audit Scotland found that deal collapsed because Accenture had underestimated the complexity of the programme and the resources needed to develop it, alongside a breakdown in the two parties' relationship.
According to SPA's strategy document, the COS programme will "deliver an extended set of functions to Police Scotland, incorporating the i6 scope".
We're sure Capita's fans will be watching this space.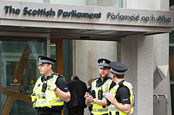 Police Scotland and Accenture were at odds over ill-fated IT project i6
READ MORE
We have asked Capita and Police Scotland for comment.
In September last year (PDF), the Scottish Police Authority Board approved £300m – £244m in capital and £54m in reform funding – to address underinvestment in the national infrastructure for Police Scotland's Data, Digital and ICT (DDICT) capabilities. COS was identified as "integral to the success of Police Scotland's ability to achieve its strategic objectives", with the hope being it would "standardise processes and share data more effectively across the organisation".
According to analysts at TMV, Capita's UNIFI Police Records Management System will form the basis of COS. The outfit also noted that DDICT strategy was being "reconfigured" as the funding made available was "not sufficient to deliver the planned transformation portfolio in full".
Capita turned over £3.918bn in fiscal 2018. The outsourcing-gone-wrong poster child told the stock market earlier this month that its Government Services arm – support services including IT, HR and back-office functions – dropped 13.5 per cent to £745.5m in fiscal '18, with the outsourcer valuing the central and local government services market at £6.7bn annually and growing 3 per cent a year.
Capita mused at the time that: "[T]he local government market for large outsourced contracts is declining with a significant drop-off in the number and size of opportunities coming to market..."
Oh dear. Every little helps, we suppose. ®