Hands up who can tell me which pupil details transfer system has glitched. Yes, Capita's
Schools told not to use it 'until further notice'
Schools using Capita's information management system have been warned that there is an "incident" with its Spring release – just months after it 'fessed up to an issue with the same data-transfer mechanism in a previous release.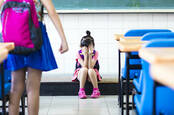 Capita strikes again: Bug in UK-wide school info management system risks huge data breach
READ MORE
In an email, the outsourcer said there had been an issue with an upgrade to the Schools Information Management System, and warned schools not to use a particular method for exchanging pupil info "until further notice".
The common transfer files (CTF) mechanism is used to send children's information between primary and secondary schools for moving pupils and other ad-hoc transfers.
The email, posted on education forum Edugeek, said it was "investigating one incident with CTF for schools who have taken the latest Spring Release", which came out on 22 March.
"We are assessing currently the specific scenarios where this incident arises and the exact scope of its impact."
Capita went on to say that schools shouldn't use this to share pupil and contact details with other schools – and said those that wished to should get in touch with the organisation they were trying to reach.
"If you have sent a CTF file to another school (after Friday 22 March) we suggest you contact the recipient school to check the details that they have loaded are correct," it said.
The issue does not relate to data transferred before the Spring release, meaning schools on the Autumn release moving data to schools that are on the autumn release will be unaffected.
In July last year, El Reg revealed Capita had just discovered a similar-sounding bug in the SIMS software update issued in December 2017 that linked contact details to the wrong pupils.
The risk was that information about kids would be sent to the wrong parents or guardians, and so Capita told schools not to use SIMS to send out any communications without thorough checks on pupil details.
The note related to the "incident" in the Spring release doesn't make any mention of such problems, and there isn't (yet) any indication that it is the same issue.
However, the incident remains fresh in users' minds, with customers joking about it on the education forum after last month's release.
"Hopefully you won't have to contact the [data protection watchdog] ICO after applying this update," said one.
"No no, you won't have to contact them yet. That'll be 6 months from now when Capita realise something's broken & then they'll try to pass all the blame onto you/block you from using it until you accept that it's your fault," added another.
A Capita spokesman told The Register: "We are investigating one customer incident relating to a minor coding issue and expect to provide a resolution imminently. Schools can continue to take the Spring release but we are offering precautionary advice until the resolution is in place." ®