This article is more than 1 year old
Stop us if you've heard this one: Microsoft UK enjoys a jump in profits, pays a bit less in tax
Software giant's Brit limb reaps pre-tax earnings of £137.5m
Microsoft's UK operation has published its annual report for the year ending June 2018, which showed the company cracking the £2bn barrier in turnover but, er, paying a bit less tax than last year.
The software giant, whose UK staff numbered 3,024 (down from 3,046 the previous year), saw its revenue climb to £2.1bn, up from a restated £1.2bn for the same period in 2017 in the published figures (PDF).
However, the UK taxman had best put the Champagne back on ice. Despite a rise in pre-tax profits from £106.1m to £137.5m, the tax the company paid actually dropped slightly, down from £29.1m to £28.2m for the period reported.
The fall in tax expense can be partly attributed to a drop in UK corporation tax rates, from 19.75 per cent in 2017 to 19 per cent for the year. A £1.4m "adjustment" also helped, although the £28.2m figure includes £3.4m of deferred taxation.
While initially impressive, that bonzer turnover figure can primarily be attributed to the company's transition to the Limited Risk Distributor (LRD) model back in February 2017. The direct effect of this change was a turnover increase from a restated £366m to £1.4bn.
Hold your horses, though – the cost of sales jumped similarly as 2017's £321.8m costs climbed to £1.3bn, which actually resulted in a drop in gross profits to £836.7m from £853.3m. This was offset by drops in Distribution and Administration expenses.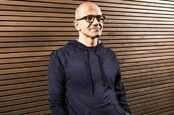 Bonkers Azure bookings give Microsoft a record-breaking $110bn year
READ MORE
Also, the company has tweaked how it recognises software licensing revenue. For software licences, the company now recognises revenue at the point of delivery rather than over the lifespan of a device. Windows 10 is primarily affected, with all the revenue now recognised upfront. The likes of hardware, Office 365 and professional services are "substantially unchanged".
2017's figures were also restated in the report to reflect the change.
Globally, Microsoft's operating income surged 21 per cent to $35.1bn for the fiscal year ending 30 June 2018, on the back of revenues of $110.4bn.
The UK operation, at least, does not like to sully its hands with performance measured in the green folding stuff.
Instead, its key performance indicator is based on return on employee investment. To that end, it saw an increase to 25 per cent from 18 per cent in the previous year as payroll crept up to £445.7m from £439.9m in contrast to the profit jump. ®