This article is more than 1 year old
As the UK updates its .eu Brexit advice yet again, an alternative hovers into view
.inc offers to remove domain name hassles with three-month giveaway and a hefty bill
If you are one of the 300,000 people or organizations based in the UK that owns a .eu domain, then the madness that is Brexit has come with an extra dose of frustration.
On Friday, the UK government again updated its advice for Brits with .eu internet addresses. If we were to summarize it in a sentence it would be: god knows what's going to happen but you should probably prepare for the worst.
That updated advice comes after the company that operates the .eu registry, EURid, was forced, yet again, to change its advice. A notice on EURid's dedicated Brexit webpage now reads: "Due to ongoing uncertainties over the United Kingdom's withdrawal from the European Union, EURid has placed on hold any plan regarding domain names registered to individuals and undertakings located in the United Kingdom and Gibraltar."
Those on-hold plans were only produced a week ago after the European Commission published its latest policies about who would and who wouldn't be allowed a .eu domain following Brexit. And those EC policies have themselves changed repeatedly over the past year.
In short, everyone is fed up. But unlike the main Brexit, there are alternatives for .eu domain holder and one new kid on the block sees an opportunity to scoop up frustrated businesses: .inc.
The .inc internet extension has had its own torrid birth, with dozens of companies originally applying for it seven years ago. It took until October 2017 for ownership to be finally resolved when one company paid a rumored $10m for the registry rights in a private auction.
Coming soon
But it is now up and running and hopes to give .com a run for its money by offering businesses an international online presence. New .inc names are only available for trademark holders right now, with general availability starting on May 7.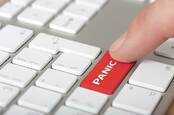 Attention all British .eu owners: Buy dotcom domains and prepare to sue, says UK govt
READ MORE
Unlike the roughly $10 per year price of .uk and .eu domains, however, .inc domains are pricey: right now they are $3,600 for trademark holders. At the May launch they will be $2,499 per year, with some companies like GoDaddy offering a reduced first-year price of $1,999.
But in light of the Brexit madness, .inc is chasing UK businesses who have had enough and are ready to jump ship from .eu. The company's sales and marketing team are prioritizing Brit businesses and are even planning to offer a special deal for those caught up in the .eu fallout: the first three months for free, or basically $500 off the first year price. In other words, $1,499 (£1,150) for the first year and $2,499 (£1,900) thereafter.
We asked the company behind it, Intercap Registry, why any UK business would pay that sum of money for a new .inc name when it only costs $10 a year for a .uk address.
Its chief strategic advisor Shayan Rostam gave us a pretty good answer: "Well it will cost you that amount of money for a good name in .uk or .eu – and much more than that in .com – because the names have already gone."
Because .inc is virgin territory you will almost certainly be able to get your name – and perhaps even a better name that your current web address, he said. Rostam also argues that if you want to reach an international audience that a .inc domain will be much more valuable than, say, a .uk domain, and suggests that Google will be likely to rank you more highly if people outside the UK are looking for your sort of products and services.
But the main reason for the high price compared to other domain names is to mark it out as a serious business registry and try to avoid problems with cybersquatting and phishing that other low-price registries are constantly struggling with. It hopes to price the dodgy people out and in turn raise the overall value of having a .inc name, to make the registry itself credible and respected.
Benefits
In order to offset the cost, the company has signed up with a range of well-known companies to offer free services that would only be useful to legitimate businesses.
For example, GoDaddy will offer free Microsoft Office 365 with each .inc domain. Global Newswire will provide one free press release, which is says is worth $655. QuickBooks will give you one free year of its online accounting system. WeWork offers 20 per cent off a year's worth of rent. And so on.
These "member benefits" are designed to get people over the .inc threshold and only appeal to the sort of companies that the registry wants on its books. It's a novel strategy that could work, especially if a company does a lot of international business.
But for those Brits running .eu domains, the economics are likely to be a little bit different. Based on the most recent EC rules, you will not be allowed to have a .eu domain if you are only based in the UK but you can register one – and retain your existing addresses – if you have an office somewhere in Europe.
As it currently stands, when Brexit does finally finally happen, you will have two months to let EURid know that you are going to change your registration and provide an address in Europe. And you will have a year from the Brexit date to make that change.
We have no doubt that, for a fee, companies will provide UK businesses – and individuals – an address within the European Union that they can then use. Assuming that is, the rules don't change again.
At that point, Brits will have to decide whether they want to stick with their .eu domain despite being made to feel unwelcome and despite the lack of clarity over trading rules with Europe, or think more internationally and go for a more international and free-market .inc name.
It's an interesting dilemma. One that should be easy depending on whether you are a Brexiteer or a Remoaner, right? ®