Google Pay tells Euro users it has ditched UK for Ireland ahead of Brexit
As politicos struggle over deal, firms continue bracing for Britain's departure
---
Google Pay has this week shifted its service provision for all non-UK users in the European Economic Area from Britain and into Ireland ahead of Brexit.
Up until now, the Google Payments terms of service have been offered by Google Payment Limited, a company incorporated in the UK.
But the ad and search giant this week revealed it had had to change the terms due to the UK's "evolving" relationship with the European Union.
UK residents' payments will continue to be processed in Blighty.
In an email sent to all users in the EEA except those in the UK, and seen by The Register, it said the terms of service would, as of 4 April, be provided by Google Ireland Limited.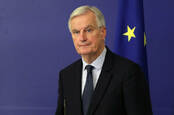 UK.gov tells companies to draft contracts for data flows just in case they screw up Brexit
READ MORE
The Dublin-based arm "will take over the processing of your payments and information in accordance with the new terms of service", the email stated.
The move comes as the UK is teetering on the brink of leaving the EU – with or without a deal and on a yet-to-be-decided date – and many businesses are racing to prepare for the departure.
This means mitigating against any potential cliff-edges and ensuring they comply with various regulations, such as those in financial services and data protection if data is transferred from the EU to the UK.
It will also be crucial for businesses that their services continue unhindered after Brexit, and Google's email suggests this is the reason for the switcheroo.
"As the UK's relationship with the EU evolves, we're making changes to the Google Payment Terms of Service so that your services continue to run smoothly," Google's email stated.
"Starting 4th April 2019, these services will be offered by Google Ireland Limited instead of Google Payment Limited.
"Following this transition, you'll still be able to see all of your past transactions at pay.google.com, and Google Ireland Limited will take over the processing of your payments and information in accordance with the new terms of service."
In standard Google fashion, the search giant added that if users didn't want to accept the new terms, "you can close your account at any time" – those who do want to accept them only have to keep using the services.
An eagle-eyed Reg reader told us that a similarly phrased note was originally posted on Google Pay's support page for the relevant nations (this is the Austrian version), but has now gone. Instead it states that "on 04 April 2019, new terms of use come into force".
Those terms don't make a specific reference to Ireland, but do direct to Google's main terms of service and privacy policy pages, which state that products and services for users in the EEA and Switzerland are provided by Google Ireland.
Google last year made its Irish arm the data controller for users of most Google services in the EEA and Switzerland due to the General Data Protection Regulation.
The terms of services statement for UK users, state that Google Pay's services are still provided by Google Payment Limited.
Google didn't provide an on-record response. ®