Hello, tech support? Yes, I've run out of desk... Yes, DESK... space
Another day, another user failing to figure out basic IT kit
---
On Call The weekend is nearly upon us again, and there's just Friday between you and some cold, cold beers. Let's ease the transition with On Call, in which readers regale us with tales of well-solved tech conundrums.
This time, we meet "Franklin", who figured out a real head-scratcher of a problem for a talented mechanical engineer who lacked something in computing nous.
It was the mid 1990s, and Franklin was working at a paper mill in the North of England.
He had been tasked with replacing users' green screen terminals with brand new Compaq PCs running Windows 95 and a SAP client.
The users would then be given instruction in MS Windows and SAP, and then "set loose".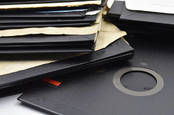 Are you sure you've got a floppy disk stuck in the drive? Or is it 100 lodged in the chassis?
READ MORE
But one user, whom Franklin is calling "Phil", soon encountered a problem and called the help desk – and even the techies were flummoxed. At least initially.
"It sounded like 'I've run out of disk'," Franklin said. "This was a puzzle as the Compaq desktops were fitted with 1GB hard drives, which was quite large for the time."
Someone would have had to try "damn hard" to fill one – but nonetheless, Franklin grabbed a replacement drive and headed over.
"When I got there, I checked the PC and there was ample drive space left – hundreds of MB – so I showed this to Phil," said Franklin.
"No, you daft bugger," came the response. "I've not run out of disk, I've run out of DESK!"
And, to demonstrate the real and pressing problem, Phil started with the cursor in the centre of the screen and moved his mouse to the right.
He hit the edge of the desk before the cursor reached the right side of the screen.
"He then let go of the mouse and held up both hands," said Franklin. "The look on his face screamed 'What do I do next, help me out here!'."
Now Phil might have been a brilliant mechanical engineer, but his computer skills were, as Franklin diplomatically put it, "a little lacking".
However, 10 seconds of instructions in how to handle a mouse left Phil a happy man.
"He did swear me to secrecy in case any of his colleagues found out," said Franklin. "But, as a quarter of a century has passed, I feel safe telling the tale."
When have your supposedly intelligent users shown a, um, less intelligent side? Share with On Call the tales you love to whip out when you're down the pub, and you might see it splashed on El Reg's pages in a future week. ®