This article is more than 1 year old
From me 2U: Quantum has finally joined the NVMe fabric array party
Hello everyone. We brought dip
Quantum, like IBM Storwize, will be using a classic 2U, 24-bay chassis for its excursion into end-to-end NVMe array land, The Reg can reveal.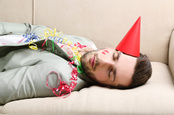 New year, new NVMe? Eh, probably. Meanwhile, here's how a few storage types started their 2019
READ MORE
This F2000 array, the first in an F-Series product line, lowers latency through NVMe-oF, as well boosting data access speed – and should give its StorNext file management customers radically faster file access, it said.
An NVMe move was heralded when Quantum demonstrated an NVMESH partnership with Excelero in September last year.
Here we are, six months later, and the F2000 supports both NVMe flash drives and NVMe over Fabrics access.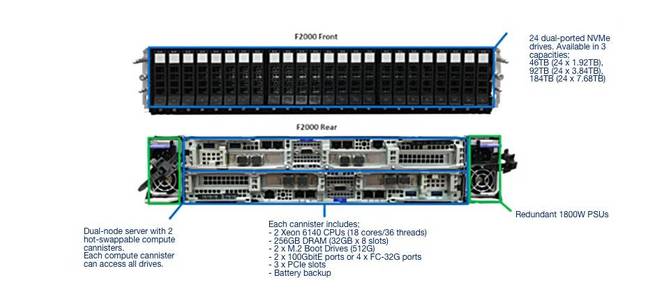 Quantum's F2000 box
There are three capacity points: 46TB using dual-port 1.92TB SSDs, 92TB using ones twice as big, and 184TB using 7.68TB SSDs. The drives are accessed by either of two Xeon 6140 CPU-driven hot-swap controllers, configured in an active:active setup.
The system supports dual 100GbitE or quad 32Gbit/s FC port access. As well as NVMe-oF, customers can use Fibre Channel, iSCSI, iSER and RDMA to access the array.
Its software is Quantum's Cloud Storage Platform.
Inside the multi-tiered and multi-protocol StorNext file management environment, Quantum's customers can use the F2000 for real-time editing of 4K and 8K content, recording and streaming of hundreds of video cameras, as well as rendering and simulation.
El Reg gently suggests that the F-Series could eventually replace Quantum's Xcellis scale-out arrays.
The firm's CEO also spoke about coming moves into a software-defined, hyperconverged architecture and promised more products coming this year. ®