Prepare yourselves for Windows 10 May-hem. Or is it June, no, July?
Microsoft's latest update for its ageing OS due to hit Soon™
---
The Windows 10 May 2019 Update is inbound, but not before it has spent a bit more time in the hands of testers excluded from the disastrous October 2018 Update.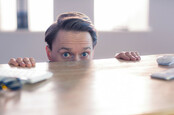 Microsoft reckons the accursed Windows 10 October 2018 Update is finally fit for business
READ MORE
Microsoft is taking its time with this one. It was widely expected to be given the April 2019 Update moniker, but now looks like Windows fans can expect to see it in May.
Maybe.
This time around, the gang is "taking further steps to be confident in the quality of the May 2019 Update" by flinging the code at the Release Preview ring of the Windows Insider programme next week to shake out any issues before commercial customers get their hands on it towards the end of the month.
This is in stark contrast to the position taken prior to the launch of the Windows 10 October 2018 Update, where additional testing in the Release Preview ring was deemed unnecessary.
It's not irrelevant. We just did a small change in our approach. 1809 is going to RP today and will be critical for helping kick start servicing. Slow was helpful in helping ID any show stopping bugs this time around.

— Brandon LeBlanc (@brandonleblanc) October 2, 2018
Festooned with bugs, including one that deleted user data, the Windows 10 October 2018 Update – aka The Update of the Damned – turned out to be a distressing experience for some.
The May 2019 Update is going to spend "increased time" lurking in Release Preview, and Microsoft intends to chow down on its own dog food with employees encouraged to put the code on their own personal devices. We'd have to admit to a certain amount of surprise that this wasn't the norm.
The team is also splitting Feature Updates (such as the May 2019 Update) from the usual day-to-day patching malarkey that occurs when users hit the "Check for Updates" button. Feature Updates will now be offered via a separate control. This means there is less scope for an accidental install.
Updates may also be paused for up to 35 days (seven days at a time) for all users, including those on Windows 10 Home. Alas, once those 35 days are up, you'll have to take your medicine before pausing again.
Feature updates, on the other hand, can be ignored until the Windows 10 installation in question hits end of service. At that point, Windows Update will have a crack at automatically initiating a feature update.
After the early adopters have had their fun, users on a currently supported version of Windows 10, on devices that Microsoft reckons have no compatibility issues, will be able to opt to download and install the May 2019 Update. This means that users on Windows 1803 and earlier can simply skip that whole 1809 thing.
May will also mark the start point for the release's 18-month servicing period.
The OS still retains the 1903 version number, even though March 2019 has been and gone. When questioned on whether this might change in the future, Insider supremo Brand LeBlanc was direct:
Nope.

— Brandon LeBlanc (@brandonleblanc) April 4, 2019
It is looking increasingly likely that Build 18362, currently in testing in both the Fast and Slow Rings of the Insider programme, is going to be the May 2019 Update. Microsoft has been busy patching this build, which now stands at 18362.30, over the last few days.
One of the notable fixes this time concerns PCs being left unbootable after installing a cumulative update and then installing an optional feature on demand. Presumably the lesser-known "brick my box" component.
The caution shown for this release is an indicator that, while there has been little in the way of handwringing mea culpas from the Windows team after 2018's annus horribilis, some lessons, at least, have been learned. ®