This article is more than 1 year old
It's alive! Hands on with Microsoft's Chromium Edge browser
You say Edgium, they say Chredge, we say Chrexplorer – let's call the whole thing off
Hands on After weeks of leaks, Microsoft has finally dropped the first official preview build of its shiny new Chromium-based browser.
We took a look at the "Dev Channel" branded browser, version 74.1.96.24, currently for 64-bit Windows 10 (although the likes of Windows 7 will also see support eventually) to get a glimpse of the future. Unsurprisingly, that future looks a lot like Chrome.
Just with an Edge icon.
Set-up of the browser was uneventful and, unsurprisingly, it was very keen to slurp the likes of bookmarks (although oddly not their icons) from an existing Chrome installation before starting up. Extensions, however, did not make the jump, requiring a hop into Microsoft's Extension gallery to put the things on manually, if equivalents exist, or flick a switch if not (more on that below.)
Once in, and things look very similar to Google's browser, if slightly more squared off (although not to the unapologetically right-angled extent of the soon-to-be-shoved-off-a-cliff original Edge.) Naturally, rather than being signed in with a Google account, it's the Microsoft account that takes centre stage. Oh, and the default search engine? Bing, of course.
Usability-wise, the browser is stable and the fact you're reading this indicates that sites such as The Register's own content management system run without issue.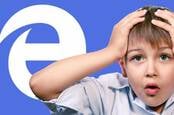 It's official. Microsoft pushes Google over the Edge, shifts browser to Chromium engine
READ MORE
While the immediate appearance is similar to Chrome, clicking into the menu shows something more Edge-like (if you're one of the vanishingly small cadre of users that actually opened Microsoft's previous crack at a browser to do anything other than to download something else.) And, of course, heading into Extensions drops one into the Microsoft Edge Insider Addons page rather than the considerably more extensive Google incarnation.
The issue is, of course, quickly resolved by flicking the switch to "Allow extensions from other stores" and then popping into the Google Store and filling your boots. Edge even displays a helpful instruction to the effect that clicking "Add to Chrome" will do the business in Edge.
If you're feeling brave, and would prefer your data heading Microsoft's way rather than Google's, then this first publicly released preview build is a solid start.
And for the truly truly brave? Jump out of the Dev Channel with its weekly builds and leap into the daily world of the Canary Channel. ®