This article is more than 1 year old
MoD plonks down £2m on table in exchange for anti-drone tech ideas
Slingshots? Hawks? Anything that will stop airports grounding planes during holibobs, really
With one eye on the pre-Chrimbo debacle at Gatwick Airport, the Ministry of Defence has flung £2m at a "counter drone" fund to address the "threat to national security" posed by remote-controlled aircraft.
Ever ready with the canned quote, omnipresent defence secretary Gavin Williamson declared this morning: "As the security threats from hostile drones are evolving at pace, it's critical that our armed forces benefit from the very latest technology to stay ahead."
The Defence and Security Accelerator (DASA), which is the MoD's tech innovation tentacle, is chipping £2m off the Defence Innovation Fund's £80m/year annual budget to fund a competition for industry to come up with new anti-drone ideas.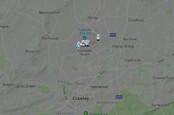 A few reasons why cops didn't immediately shoot down London Gatwick airport drone menace
READ MORE
Promising ideas picked by DASA get £800k for further development. The best of those then get more cash firehosed at them to turn them into viable products for military units to deploy, as DASA itself explained in detail.
As funding in the weird and wonderful world of tech goes, £2m for the whole thing is a drop in the ocean. However, judging by the number of contracts DASA awards, the approach seems to work.
"Among the technologies we're looking for, we'd be interested in those which can detect and track multiple threats simultaneously with minimal human oversight and against a broad spectrum of UAS types," said DSTL principal engineer David Lugton.
"We're also interested in Counter-Unmanned Air Systems which can overcome the challenges posed by line of sight blockages, collateral, and ones which can link systems together to improve understanding of the local 'drone air picture'."
In the military context, the problem with camera-equipped drones is that they're inexpensive, easily available and need little skill from operators – making them a real problem in modern warzones.
"There is a similar problem in the UK with the malicious or accidental use of drones becoming a security challenge at events, affecting critical infrastructure and public establishments; including prisons and major UK airports," the MoD said in its competition document about the fund.
This is a clear reference to the Gatwick omnishambles of last Christmas, when persons unknown flew a drone just close enough to Britain's second busiest airport for long enough to force it to close down. Sussex Police then spent most of the following week running around in circles without finding either the drones or their operators.
Police still haven't identified or caught the real culprits for the Gatwick fiasco.
Meanwhile, a few weeks ago DASA doled out £2.5m to a company promising to create military drone swarms. ®