This article is more than 1 year old
Google Cloud flashes flower power in bid to realize 'write once, run anywhere' dream
Cloud Services Platform gets rebranded Anthos and goes cross-cloud
At its cloud-touting event Google Cloud Next'19 on Tuesday, the Chocolate Factory announced a service that debuted last year, now with a new name and broader scope.
Those who recall the blandly branded Cloud Services Platform, which consisted of the managed Google Kubernetes Engine (GKE), GKE On-Prem and managed Istio, can forget that name and start saying Anthos.
What's new is the ability to manage containerized workloads on other cloud providers like AWS and Azure. And Anthos, derived from the Greek word for flower, is actually available now.
"It lets you write once and run your jobs anywhere," said Google CEO Sundar Pichai during the keynote presentation.
Nonetheless, Google would clearly prefer to have companies run their applications on the Google Cloud Platform, and it introduced a tool to make that happen. Anthos Migrate is a helper service designed to move VMs – on-premises or in other clouds – to GKE-orchestrated containers. It's designated a beta release and is "coming soon."
Choose us says HPE
Anthos is not inexpensive, however. The subscription-based service starts at $10,000 per month per 100 vCPU block, with a one year minimum commitment. Negotiation, however, may result in better rates.
Thomas Kurian, tapped to head Google Cloud Platform last year, said Anthos came from listening to customers who wanted to have a technology stack they could run in the cloud and in their own data centers using a single programming model without lock in.
With Anthos comes an enlarged ecosystem that now spans more than 30 hardware, software, and integration partners, including Cisco, Dell EMC, HPE, VMware, Intel, Dell, Lenovo, ATOS and Deloitte.
Anthos uses Google's Kubernetes Engine (GKE) to enable containers to move between on-premises systems (GKE On-Prem) and Google's cloud. The HPE systems are SimpliVity and a Nimble storage/ProLiant server combination.
There are two sides to this Google HPE hybrid cloud coin. One side is Google's Anthos cloud in which containerised apps can run, orchestrated by Kubernetes.
The other is a pair of on-premises environments with designs validated by HPE. These are a SimpliVity system and a Nimble storage + ProLiant server combination. GKE operates in both systems' servers and enables containerised apps to execute.
The hybrid cloud twist is that the containers can be moved to, and back from, the Google Cloud Platform.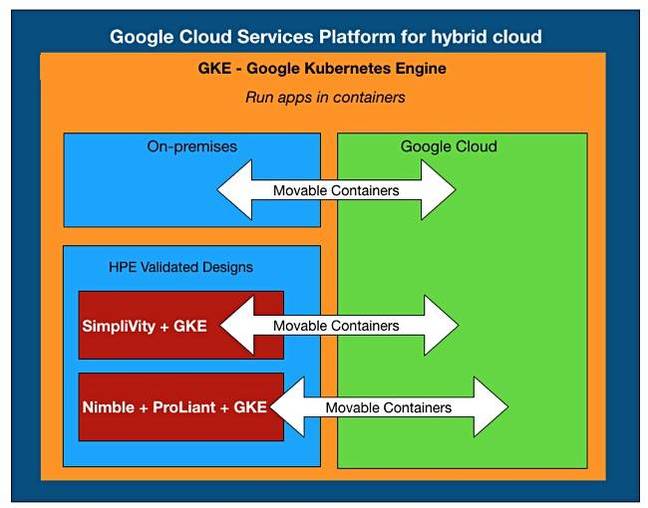 El Reg schematic of Google-HPE hybrid cloud scheme.
HPE and Google say their intent is to provide customers with a consistent experience across public cloud and on-premises environments.
As an extra, HPE will offer these two systems as a Service through GreenLake, its fully managed pay-per-use consumption offering, so combining the private and public cloud consumption model experiences. Both the on-premises and Google Cloud app environments in this scheme can be managed through a customer's Google Cloud portal.
Phil Davis, President of Hybrid IT and Chief Sales Officer at HPE provided the prepared quote: "By partnering with Google and leveraging a container-based approach, HPE can offer a seamless hybrid cloud experience with the unique option to do it all as-a-service."
Anthos price and partners
Predictably, the Chocolate Factory talked up the requisite big-name customer wins across various industry sectors: Australia Post, JP Morgan Chase, McKesson, Procter & Gamble, Samsung, Renault, and Viacom, to name a few.
The GCP partner ecosystem's most meaningful expansion included "strategic partnerships" with a handful of open source companies – Confluent, MongoDB, Elastic, Neo4j, Redis Labs, InfluxData and Datastax. Google has agreed to give its cloud customers access to the open source applications that these firms develop and to share some undisclosed portion of the revenue with these partners while providing unified management, billing and support.
"This strategic initiative is great for us because, as you know, monetizing open source was always a very big challenge for open source vendors, and more so on the cloud era," said Ofer Bengal, CEO of Redis Labs.
Redis is one of several companies trying to commercialize open source software that previously explored software licensing changes to prevent cloud platforms like AWS, Azure and GCP from running their code without giving back.
At the opening of the keynote, Pichai addressed the elephant in the room, Google's inconsistent commitment to the products it launches. That legacy of distrust, born from the shutdown of more than 150 products and services in the twenty-one years since Google was founded, has become enough of a reputational albatross that Google engineers post in discussion forums to reassure those curious about new offerings that the end is not nigh.
Pichai didn't make a specific commitment to any particular service but suggested paying enterprise customers should have different expectations than freeloading, ad-afflicted consumers. "Cloud is one of the largest areas of investment for Google as a company," he said. "And we are in it for the very long term. We want to make sure we're a great technology partner for all of you."
In a phone interview with The Register, David Mitchell Smith, VP with IT consultancy Gartner, said Google's challenge is winning the trust of large companies. Kurian, he believes, will help.
"I think having Thomas [Kurian] is a plus for them," he said. "He's got really, really good credibility with enterprise customers." ®