This article is more than 1 year old
RIP: Microsoft finally pulls plug on last XP survivor... POSReady 2009
Welcome to Day One of the post NT 5.1 era
Windows XP has finally reached the end of the road, as the last supported variant - POSReady 2009 - is supported no more.
Windows Embedded POSReady 2009 which, as its name suggests, is designed to run apps that shriek "Unexpected item in the bagging area" at shoppers as disinterested staff look on, finally reached the end of support yesterday, marking an impressive run for the veteran operating system.
As recently as last month, readers were sending us images of XP getting poorly in places such as UK aspirin-flinger Boots while one of our own Vultures was thrilled to spot the aged OS fiddling with its disk in our local grocers.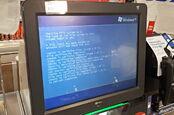 It liiives! Sorta. Gentle azure glow of Windows XP clocked in Tesco's self-checkouts, no less
READ MORE
Microsoft emitted the last update for the poor old thing on 5 April, in the form of KB4487990, which tinkered with the time zones for São Tomé and Príncipe, and Kazakhstan's Qyzylorda.
After that, there was only silence.
Support for Windows XP memorably ended back in 2014, amid much wailing and gnashing of teeth, as enterprises realised that they would have to finally migrate off the platform. XP had already been around since 2001 but, with many skipping the disastrous Vista, plenty of XP workstations lingered on.
Some users, such as the British government, kept the flame alive by paying cold, hard cash to Microsoft for updates while others discovered that switching their machines to POSReady mode via some registry changes would keep the trickle of fixes coming through.
While it's true that elderly Windows XP machines remain a fertile ground for miscreants, machines running the OS actually foiled miscreants during at least one recent malware outbreak, at the NHS in 2017, when they were memorably found to have rolled over and played dead too often to effectively spread the WannaCry ransomware.
Poorly patched Windows 7 computers were the main attraction for the hackers, who were notably foiled by WannaCry ransomware killswitch hero Marcus Hutchins.
As a reminder, Windows 7 is due for its own appointment with the Microsoft axe-wielder in 2020.
While Microsoft cheerfully suggests that a move to Windows 10 or Windows 10 Pro is in order for POSReady 2009 machines, the hardware is unlikely to enjoy the experience, so those with the devices might be better just swapping out the equipment.
The aforementioned pharmacist, Boots the Chemists, told us it would be upgrading to a newer version later this year.
For the rest of us, it is time to gather around the campfire of blazing XP EULAs, hold hands, and sing songs of green field backgrounds and irritating yellow search dogs.
And then install ReactOS. ®