This article is more than 1 year old
Xiaomi 'rewards' CEO and founder with £736m worth of B-class shares
Almost as much as 4th biggest mobe maker made in 2018
Xiaomi's founder and CEO has received 636.6 million company shares valued at more than £735m – not far off the adjusted net profit figure the fast-rising Chinese mobe maker banked for 2018.
The "reward" to Lei Jun, confirmed in Xiaomi's annual report (PDF) for the last full calendar year, is in addition to a salary and dividends paid to him, though the exact size of these were not specified.
Although the stock award is not a surprise – president Lei Bin said last July at Xiaomi's IPO that it intended to compensate Jun for his "devotion" to the business – the B-class shares are currently valued at HK$7.5bn (£735.6m, $956m).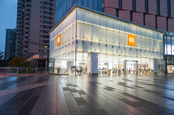 Mobes 'n' mattresses flinger Xiaomi growing like the clappers – outside China, at least
READ MORE
The company, founded in April 2010, said that Lei had committed to donate "all the relevant shares after deducting any tax payable for charitable purposes".
A few weeks ago, Xiaomi reported 2018 financials that showed a 52.6 per cent hike in revenue to ¥174.9bn (£19.9bn): beyond mobile handsets, the business produces scooters, knickers, formaldehyde-free mattresses, and more recently added a wireless vacuum cleaner, sweeping bot and smart running shoes to its fragmented portfolio.
Smartphones remained the biggest contributor, hauling in some ¥113.8bn (£12.95bn) in sales, up more than 41 per cent, as the company became the fourth highest selling player in the world.
Adjusted net profit was the company was ¥8.6bn (£980m).
Famously, Xiaomi has vowed to make a margin of no more than 5 per cent on its phone hardware so much of its profits are derived from internet services.
The company's smartphones arrived in the UK last November, opening its first physical store at Westfield shopping mall in Shepherd's Bush, London. In its home nation, the company sells its varied range of goods via 1,000 Mi-branded outlets. ®