Fast Ringers keen to extricate themselves from the Windows Insider programme have missed their chance for a quieter life as Microsoft booted them into the 2020s with build 18875.
Before today, Microsoft's platoon of unpaid Fast Ring testers could have switched away without needing a reinstall, but no more. Like the vampire of yore, if the 20H1 build is allowed over the threshold, there will be no going back without a stake to the heart of your PC.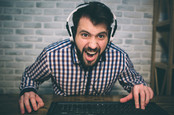 Slow Ring Windows 10 fragged by anti-cheat software in the games you're playing at work, says Insiders supremo
READ MORE
With release still a year or more away, there isn't much to get excited about, unless Chinese Simplified Input Method Editors (IMEs) Pinyin and Wubi are your thing. Fresh from updating the Japanese IME in the May update, Microsoft has turned its attention to China. New IMEs, which the software giant describes as more secure and reliable, can now be used for Simplified and Traditional Chinese.
Unfortunately, that pesky issue with games containing anti-cheat code remains. Microsoft has continued to dump the problem firmly at the door of publishers and suggests users ensure they are running the latest versions of their games before having a crack at 20H1, or face the prospect of a possible Green Screen of Death.
It also looks like the curse of the installer has struck once again. Some Insiders are reporting that the build chokes early on in the setup process and Microsoft has acknowledged that something is up and, er, wants feedback. It appears the issue occurs mainly when moving from 19H1 to 20H1, so perhaps its just that the May 2019 Update simply won't let go.
Our sacrificial Windows 10 machine had no such issues.
Where's

Wally

19H2?
Sadly, among the sea of Windows 10 patches, updates and testing rings, the red and white-striped jersey and bobble hat of Windows 10 19H2 (or 1909 if you prefer) remains inexplicably absent.
Microsoft has remained tight-lipped about the release, saying only that it'll talk about it "later". It has become a can kicked down the road with a deftness that would impress even the most Brexit-bothering UK Prime Minister.
The silence on the matter is both bewildering and frustrating for Insiders, particularly considering the dependence Microsoft has on its army of freebie Windows testers.
Daily delight for Edge
Still, 19H2 aside, Microsoft has come good on its promise to push out daily builds of its Chromium-based browser for those hardy canaries. Now up to version 75.0.125.0, New Edge is clearly the subject of quite the development push, with tweaks to functionality already arriving on users' desktops.
While users of competing browsers and many open-source projects may snort, having had the option to take daily builds for years, it is a big change within the halls of Redmond. ®