They live: The US government is not killing its zombie servers fast enough say its auditors
You've got to aim for the head
The US government is terrible at managing data centres: five years after the Federal Technology Acquisition Reform Act (FITARA) mandated the closure or consolidation of thousands of inefficient server farms, the federal agencies are nowhere close to meeting its goals.
According to a report from the US Government Accountability Office (GAO), the government closed 6,250 data centres that were funded by the American taxpayer by August 2018, out of a total of 12,166. But only 13 out of 24 government departments that are subject to FITARA and its extension, the Data Centre Optimization Initiative (DCOI), reported that they had met, or were on track to meet, all of their assigned data centre closure targets.
"The data centre closures were expected to drive cost savings and avoidances and, to the agencies' credit, the closures have led to more than $2.37 billion in planned and achieved cost savings and avoidances from fiscal years 2016 through 2018. However, five agencies did not plan to meet their cost savings targets," GAO said in the report.
Things look a lot worse when the DCOI optimization requirements are considered: 20 out of 24 departments said they did not plan to meet all of their FY 2018 data centre optimization goals.
A room needs just one server running government workloads in order to qualify as a federal data centre, in the latest definition created by the Office of Management and Budget. The primary aim of FITARA and DCOI is to get rid of all these small server closets and basement racks lurking in government departments in order to save money.
But they also include an efficiency requirement – with mandated power usage effectiveness (PUE) rating of 1.5 or lower for existing data centres, and 1.4 or lower for new data centres. PUE is the ratio of total amount of energy used by a server farm, including cooling and power distribution, to the energy delivered to computing equipment. According to Uptime Institute, the global average PUE hovered somewhere around 1.58 in 2018.
There's also a 65 per cent server utilization target aimed at eliminating those undead servers, as well as automated monitoring, energy metering and virtualization targets. By August 2018, not a single agency managed to meet their utilization and monitoring goals.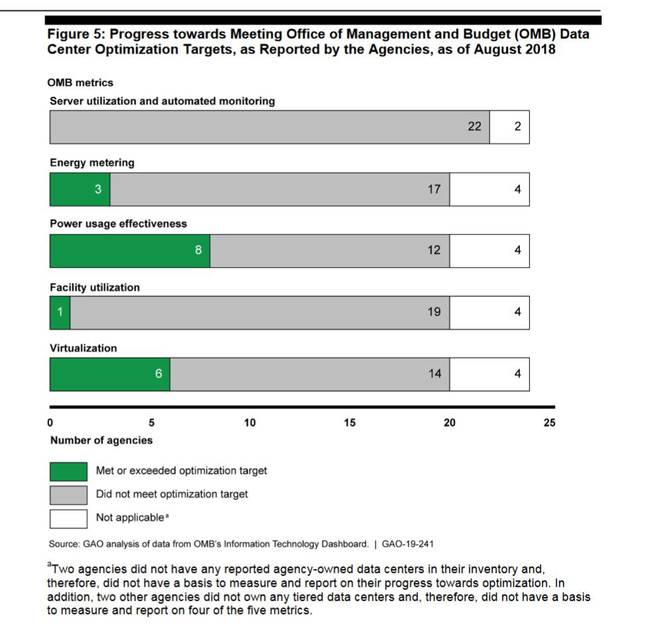 The overall aim of DCOI is to retire 25 per cent of 'tiered' data centres – i.e. those having advanced reliability features, like a backup power generator - and at least 60 per cent of 'non-tiered' facilities.
The original deadline for DCOI was September 2018, but it has since been extended to October 1, 2020.
"OMB's planned revisions to DCOI goals provide the 11 agencies that had not planned to meet one or both of OMB's closure targets with additional time to meet their goals. Until these agencies take action to close enough data centres to meet OMB's targets, they may not realize the efficiencies and cost savings that were expected from DCOI," GAO said in the report.
In total, another 1,200 government data centres are destined for the scrap heap by 2023.