This article is more than 1 year old
Starz, meet the Streisand Effect. Cable telly giant apologizes for demented DMCA Twitter takedown spree
Inadvertently highlights easy abuse of IP protection
US premium cable company Starz has apologized for a DMCA takedown tornado that saw it demand not only that a news article about piracy be torn offline – but also any tweets that mentioned it.
The article was posted last week on news site TorrentFreak and noted that a large number of unaired episodes from various TV shows – including Starz's headlining American Gods – had been leaked and posted online. It didn't provide any links to the stolen material or even mention where the material had been posted but it earned the ire of Starz' legal beagles regardless.
The telly goliath then launched a scorched-earth policy through social media "specialist" The Social Element, sending takedown requests to anyone and everyone that even mentioned the piracy on Twitter. Amazingly, Twitter complied with many of the requests, taking down tweets that simply referenced the news article.
Then it got worse: TorrentFreak wrote an article about how it was being targeted by Starz – and then that article and any tweets that mentioned it were also the subject of DMCA takedown requests. This did not go down well and the affair went full Streisand.
"The techniques and technologies employed in these efforts are not always perfect, and as such it appears that in this case, some posts were inadvertently caught up in the sweep that may fall outside the DMCA guidelines," the company said in a statement on Monday in response to a growing campaign against the heavy handed legal tactics.
It went on: "That was never our intention and we apologize to those who were incorrectly targeted. We are in the process of reviewing all of the impacted posts as well as the scope and procedure for the previous takedowns and are working with our vendors to reinstate any such content that was inappropriately targeted for removal."
Artificial intelligence
Among those who saw their tweets referencing both the original story and the legal response were a number of journalists - one of who called the whole experience "Kafkaesque" - law professors, and others.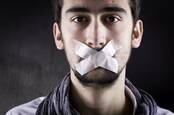 Requests for info, gag orders and takedowns fired at GitHub users hit an all-time high last year
READ MORE
With the European Union approving its new Copyright Directive, which will provide greater powers to companies to enforce infringement of their content, the issue may swing a spotlight onto what counterbalances there are to prevent large corporations from abusing their powers, and whether sanctions should be applied to companies that are over zealous in their enforcement.
While Twitter took down tweets within minutes, the appeal process for arguing against such a takedown takes far longer and is poorly documented. It is, of course, not a copyright infringement to mention an article that is about a separate article that has been subject to questionable legal tactics for mentioning something that a company doesn't like.
The best explanation would be that The Social Element automated its takedown requests so that any mention of the original article was also targeted. The worst one is that people at the influencing biz decided to deliberately target anyone that mentioned the issue, despite knowing that they didn't have a legal leg to stand on.
We have asked both Starz and The Social Element for comment and will update this article if they respond. ®