Easter is approaching – and British pr0n watchers still don't know how long before age-gates come into force
Multiple delays have dogged a government policy with a lot to prove
---
Porn-watchers and providers are being kept in the dark over when age checks for access to online smut will come into force, as the government remains schtum about the already delayed roll-out.
The reforms, which will require visitors to adult websites to prove they are over 18 before they can gain access, were originally due to come into action last April, but had to be pushed back to allow the regulator to draw up some guidance.
When this was eventually agreed on by parliamentarians, government ministers mooted the idea of the checks going live "around Easter" 2019.
However, with the long weekend looming, it is looking increasingly less likely that the government will spring the age checks on porn sites, age-verification providers and users at short notice. Indeed, speculation to El Reg has put the commencement date as late as July.
For its part, the Ministry of Fun (aka the Department for Digital, Culture, Media and Sport) has consistently refused to offer any comment beyond saying that it has "taken the time to get this right and will announce commencement plans shortly".
Some delay was always to be expected: the regulator, the British Board for Film Classification, has been tasked with enforcing something entirely new, in a field that's beyond its usual remit. And that's before we get into the political and legislative time-suck that is Brexit.
The delays have followed many, many months of lobbying from both sides. The move, which was set out in the Digital Economy Act, was pitched as a way to stop kids from accidentally stumbling across porn online.
It originated from a report from the NSPCC that warned of the damage such viewing could cause, which combined with effective lobbying, public pressure and politicians' desire to be seen to be taking action.
The addition of more widespread fears of the dangers of tech, often stoked by dodgy science and screaming headlines created a perfect storm.
Effectively, this meant that the plans would go ahead – even amid concerns about data privacy and security, the impact on ISPs and independent pornographers, the cost to government and doubts that the plan could even achieve its policy aim.
That's partly because the regulation won't apply to social media sites like Twitter or Reddit, where porn is prevalent. It also won't apply to text-based smut, and will cover only sites that are either marketed as porn purveyors or where adult content makes up more than one-third of all content.
Social media has, in particular, been a bone of contention for both sides: proponents complain the government hasn't gone far enough, while opponents use this as evidence the regulation isn't going to be effective, because teens will resort to other, non-blocked avenues.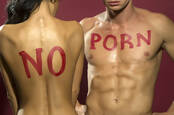 El Reg talks to PornHub sister biz AgeID – and an indie pornographer – about age verification
READ MORE
It's also worth noting that it is unlikely the BBFC will be able to take widespread enforcement against the estimated 4.5 million porn domains out there; instead it will have to take a "proportionate approach" based on how popular sites are among kids, how widely they are discussed and how high up search engine results they are.
Nor can the BBFC set any rules on data protection – it can just make recommendations and has only promised a voluntary certification scheme, which is yet to be published on its site.
And there are widespread concerns that the firms involved will create massive treasure troves of user data that will be prime targets for hackers. In particular, porn kingpin MindGeek's solution, AgeID, has come under fire – although, as The Register reported last month, it has undergone a security assessment by the NCC Group.
Meanwhile, the government has admitted that the porn block could face anything up to £10m in legal bills in the first year alone, and estimated establishing a regulator would cost between £1m and £7.9m.
This says nothing of the costs companies will face through updating their systems, implementing solutions (not all are free; AgeID only offers its services gratis to UK-based sites), and possible lost revenue if visitors are turned off by the checks.
And, of course, under-18s will be able to access porn other ways – ToR won't be alien to many, and teens could easily share their skills among friends. It's not hard to imagine that if underage kids can buy booze from the offie, they'll be able to buy porn passes, too. And parents will have to make sure they've properly logged out of their accounts.
The government, and others, might point to recent surveys that suggest wide public support for age checks. An age-verification vendor, Yoti, asked 2,000 people and found that 60 per cent were in favour, while YouGov's more recent assessment found a 67 per cent approval rating, although this decreased with frequency of porn-watching (just 28 per cent of those who watched every day were in favour).
However, both these surveys found that people weren't aware of the impending block – about half of the Yoti respondents didn't know about it, while 76 per cent of the YouGov participants had no clue – so it's possible they weren't aware of the broader context and concerns about the rollout.
Such questions may be brought to the fore as sites gear up for commencement and viewers start considering whether, and how, they are going to consume porn in the future.
And it seems the porn-watching Brit public may well be the canary in the mine for other parts of our internet-going lives, as age-verification is mooted – most recently in the data watchdog's proposals for age-appropriate online services – as a possible solution for various ills, perceived or otherwise, the internet causes.
Regulators in other countries and other sectors, will be watching the roll-out closely – and, having spent significant amounts of time, money and resources to "get this right", the government has a lot to prove. ®