Analysis IBM has posted a third sequential quarter of storage hardware revenue decline as part of its first 2019 quarter's results.
Storage hardware revenues were 11 per cent down year-on-year to a calculated $350.9m. IBM's overall revenues were $18.2bn, down 4.7 per cent y-o-y. Storage hardware is part of IBM's Systems business, which pulled in $1.33bn, also 11 per cent down y-o-y.
In the earnings call, SVP and CFO Jim Kavanaugh said: "Our Systems' revenue declined, reflecting the IBM Z product cycle dynamics and weaker performance in storage."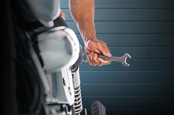 IBM soups up Storwize arrays: Let them eat cache, IOPS, capacity
READ MORE
The weaker storage performance was "driven by markets and competitive dynamics... Storage hardware was down 11 per cent with declines in both the high-end and mid-range, offset by continued growth in all flash arrays. Performance reflects declines in our high-end, which is tied to our mainframe cycle, and the ongoing competitive dynamics and pricing pressures."
To El Reg, that means Big Blue's storage products were beaten by rivals' products more often than not. This emphasises the necessity of IBM's recent refresh of its mid-range Storwize product line.
Kavanaugh talked about the mainframe cycle influence on storage: "Storage was a weak performance in the first quarter. It was entirely driven again by the high-end DS8000, which was attached to our mainframe. And we see that pretty consistent until we can bring new innovation to market."
There has been no mention of a DS8000 refresh coming. Kavanaugh said: "We look to manage the portfolio for the market shift to flash."
An obvious takeaway here is that IBM all-flash revenues may not be growing fast enough to offset declines in the all-disk and hybrid arrays.
But increasingly IBM's cloud business appears to be taking off. "Our Cloud revenue growth in the first quarter accelerated to 12 per cent with our as-a-service offerings up 15 per cent," Kavanaugh said. "With this, our Cloud revenue has grown to $19.5bn over the last year."
IBM does not break out its cloud storage business. The cloud revenues sector now includes Cognitive software (Watson, for example) so cloud storage services are a relatively smaller part of the overall IBM cloud business.
Storage hardware, which we calculate to represent less than 2 per cent of IBM's revenues for the quarter, is a minuscule part of its business. Nothing it does here is realistically going to affect its overall results, and managing a portfolio shift to flash and to as-a-Service cloud revenues is what Big Blue is doing.
Against that background, El Reg expects a storage hardware revenue uplift from the Storwize refresh for its seasonally strong second quarter. Whether that's enough to reverse the declining revenue trend for three quarters is open to question.
What could reverse it in the future is the next mainframe cycle, bringing high-end DS8000 sales in its wake. ®