Red Hat, now a part of Big Blue, on Tuesday released its first annual survey on the State of Enterprise Open Source, a statistical snapshot of what IT leaders think about Linux, Kubernetes and the like.
The upshot is entirely unsurprising, dare we say predictable, for a company that sells... open source software to enterprises. Asked to rate the importance of enterprise open source (EOS) as it pertains to their organization's enterprise infrastructure software strategy, fully 69 per cent said it's either extremely or very important. Only 1 per cent said it's not important at all.
About as many of respondents say open source usage has grown within their organization in the past 12 months. Some 68 per cent said as much, with 29 per cent anticipating usage will stay the same and only 3 per cent expecting a decline.
Looking a year ahead, 59 per cent see further open source growth, 39 per cent predict the level to remain the same and 2 per cent see a decrease.
In a blog post heralding the survey findings, even Red Hat technology evangelist Gordon Haff can't muster much enthusiasm. "The results didn't shock us," he said.
EOS – which is what Red Hat calls open source projects that implement features companies care about like Single Sign-On and security hardening – is increasingly being used for activities traditionally associated with proprietary applications, like analytics, cloud management, storage and security.
Open source accounts for 41 per cent of databases, 42 per cent of big data analytics, 43 per cent of cloud management tools, and 45 per cent of website development.
The purpose of EOS spans several uses. For 53 per cent of respondents, it's for modernizing IT infrastructure. For 42 per cent, it's about "digital transformation," which is to say creating novel business opportunities and services (as opposed to making existing business activities run more efficiently).
Among 43 per cent of respondents, EOS is about application integration while for 42 per cent it's about application modernization. For 43 per cent, the focus is application development and for 40 per cent it's all about the devops.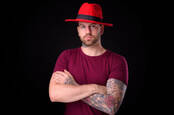 As Red Hat prepares to become part of Big Blue, its financials look as solid as Linux kernel 2.4
READ MORE
The perceived benefits of EOS are also what you'd expect: for 33 per cent, the appeal is lower total cost of ownership; for 29 per cent it's about access to the latest innovations; for 29 per cent it about better security; for 26 per cent, the story centers on higher quality software; for 25 per cent, the support is what matters; and for 25 per cent, application customization is key.
Paradoxically, security is also cited among the top three barriers to EOS adoption (38 per cent), with level of support and compatibility coming in at 35 per cent.
Looking at the breakdown of proprietary software and open source software in respondents' companies, the survey found the current breakdown at 55 per cent proprietary and 26 per cent open source. Looking ahead two years, respondents anticipate the mix shifting to 41 per cent proprietary and 36 per cent open source.
(The Register asked what the remainder might be, but we've not heard back.)
For Haff, Red Hat's evangelist, open source differs from proprietary software in "the way it enables individuals and organizations to collaborate to achieve common goals with a minimum of structure and other barriers."
Given the way things appears to be going, he's preaching to the choir. ®