This article is more than 1 year old
Why Qualcomm won – and why Tim Cook had to eat humble Apple pie
Deadline for 5G kit was perilously close
Comment The dramatic peace treaty between Apple and Qualcomm is good news for iPhone buyers, but raises questions about the market's ability to produce a viable competitor to the 5G leader – at least in the short term.
Simply put, Apple blinked first. Other customers have balked at Qualcomm's royalty structure, and even its own shareholders have filed suit complaining that Qualcomm is too aggressive, thereby attracting unnecessary antitrust actions.
But only Apple, the biggest company in the world by market capitalisation, felt able to take it head on (yes, BlackBerry won a $814.9m settlement from Qualcomm at arbitration, but that related to rebates Qualcomm had withheld).
Apple didn't fold this week because of Qualcomm's aggressive counter-litigation strategy: going after Apple's supply chain partners and seeking to get iPhones banned. It caved because Apple needs to keep making competitive iPhones, and in the short term that means they must have Qualcomm Inside.
The ongoing litigation had prompted Apple to switch to using Intel's LTE modems for the current range of iPhones (XS, XS Max and XR), which was accompanied by some complaints about performance. It should be noted that Cupertino addressed some of these issues with software updates. Qualy also boasted that a wide-ranging test from internet speed-testing tool Ookla last year showed its Snapdragon SoCs outperforming rivals.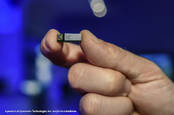 Psst, says Qualcomm... Kid, you wanna see what a 5G antenna looks like?
READ MORE
Apple and Qualcomm announced a chipset supply agreement yesterday so this year's upgrades should revert to using Qualcomm – to sighs of relief from some of the potential upgraders.
But most pressingly, in 2020 Apple will need to start selling a 5G phone – and here the choices are even poorer. Apple was reportedly talking to Mediatek and Samsung for supplying 5G modem chips. But it's about much more than the silicon.
5G requires fancy mmWave antennas, and Qualcomm is justifiably proud of being able to miniaturise technology this exotic and temperamental to be built into a smartphone. Time was running out to build a 2020 5G iPhone. It's cutting it fine as it is.
Intel yesterday announced it was pulling out of the 5G smartphone modem business following the loss of its biggest customer, and was considering flogging off the modem business entirely. But that would be assuming causality here. One shrewd account holds that it was the other way around. Because Intel was getting cold feet about phones, it will have told Apple it couldn't guarantee the product needed, leaving Apple with no choice but to capitulate.
"Intel has had enough of losing money on cell phone modems and is instead shifting its focus to integrating them into PCs and other data-centric devices," wrote analyst Richard Windsor.
Intel's pulls 5G smartphone modem development, Apple settles with Qualcomm -> Short term impact: reducing the number of 5G modem suppliers should make 5G interoperability easier to make smooth. Longer term: It's complicated https://t.co/M8iRyFmTvq

— Ian Fogg (@ianfogg42) April 17, 2019
So who will provide a second source for the industry?
Qualcomm's share price is naturally up today, as the pulse rate of antitrust regulators should be. In a competitive market, the fortunes of Mediatek and Samsung would see a rebound, according to classical economic theory (prices go up creating more investment in competitors). But this is complicated by the fact that Apple is a silicon powerhouse itself, with Apple as its sole customer. And it is confident that it can do to modems what it did to graphics chips – make them itself, one day.
Apple used Imagination chips for the iPhone's GPU, and it hit the supplier hard when Apple said it didn't need them anymore. Hence, the chipset supply agreement with Qualcomm is six years, shorter than the 15 years Nokia agreed with Qualcomm when they made peace. But given Qualcomm's massive investment in various aspects of RF, like the antenna design, I wouldn't bet on Apple modems any time soon.
Imagination puts two-thirds of itself up for sale as Apple IP fight rumbles on
READ MORE
Nor can we realistically expect to see a 5G iPhone in 2019, given the timescales involved, and Apple's historical reluctance to cut itself on the bleeding edge of new technology. Although, who knows? That one-off payment that accompanied the new supply agreement may cover Qualcomm doing a special favour and helping design the 2019 5G iPhone. I just very much doubt it.
One of their tech recruiter is literally visiting any profile with baseband keyword inside to recruit EU folks in Munich. Infineon wireless unit was also in Germany... pic.twitter.com/rSeOKZfd5T

— Yan (@yangrunenberger) April 17, 2019
At MWC, Mediatek said it was working closely with Vivo and Oppo to bring 5G modems to market. It also said it will ship its modem by year end, so although it promises to offer a more affordable 5G, it's all Qualcomm for the foreseeable future. ®