Google rolls out Android Easter Egg for Europe – a Microsoft antitrust-style browser, search engine choice box
Now how about we forget these fines, eh, mes amies? Meine Freunde? Mis amigos?
---
Android users across Europe are due a software update from Google today that will ask them to make a choice for the future of their smartphones and gadgets – which browser and search engine do you want to use?
Once the update has been installed, the next visit to the Google Play Store will throw up two panels, asking users to choose from a selection of five browsers and five search engines to install and optionally make the device's default. Among them will be Chrome and Google, obviously, and the others will be the most popular apps in the region, sorted in a random order, according to the web ad giant.
Typically, Android gizmos ship with Chrome bundled and Google as the default search engine, which European watchdogs reckon is an abuse of its dominant position in the online world.
"Users can tap to install as many apps as they want," beamed Paul Gennai, product management director at Google, on Thursday.
"If an additional search app or browser is installed, the user will be shown an additional screen with instructions on how to set up the new app (e.g., placing app icons and widgets or setting defaults). Where a user downloads a search app from the screen, we'll also ask them whether they want to change Chrome's default search engine the next time they open Chrome."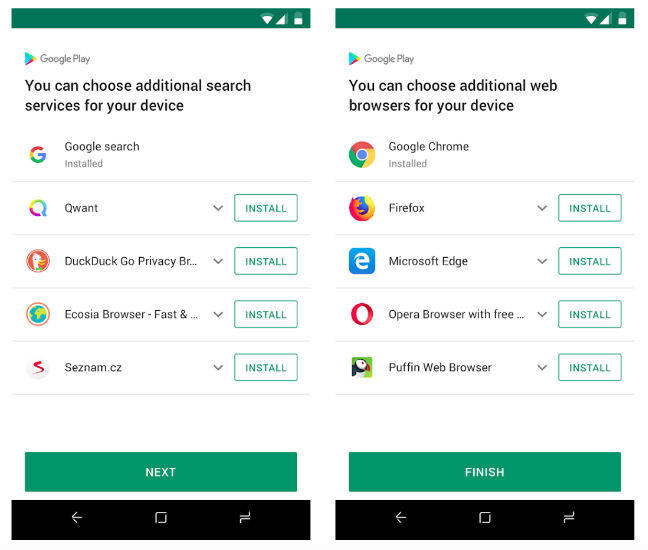 What European Android users will see ... Click to enlarge. Source: Google
The reason for Google's largess isn't down to a deep-seated belief in choice – otherwise we'd all be getting it worldwide – but money, around €4.34bn ($5bn) or more to be precise. That's the amount of dosh the European Union wants to fine the US titan for the corporation's anti-competitive practices. Specifically: ensuring Google's search engine and Chrome browser were bundled as default on handhelds and handsets, and paying manufacturers to ensure they stayed that way.
Google, which is appealing the fine, agreed to provide European citizens a choice, in order to avoid a larger financial penalty, and this effort is now live.
The EU tried a similar approach when slapping down Microsoft for baking Internet Explorer into Windows. In 2010 Redmond was forced to include a dialog box in its operating system allowing users to pick their default browser, but again, only in the EU. US regulators weren't interested in enforcing anything similar against Microsoft, and the same is true for Google today.
Today's change hasn't left everyone happy. The primary instigators of Europe's legal action – Fair Search, the anti-Google pressure group backed by Oracle and other tech players – is definitely upset.
"Google's proposal for a choice screen is entirely ineffective, and completely different from the one that Microsoft agreed to with the European Commission," it said in a statement.
"The Google choice screen for Android does nothing to correct the central problem that Google apps will remain the default on all Android devices. With Android holding 85 per cent of the global smartphone market, it is time for robust enforcement of the non-discrimination principle enshrined in the European Commission's July 2018 decision condemning Google for abuse of dominance with regard to Android." ®