Cloud Atlas: Huawei's homegrown AI hardware hits shelves. Oh, and it's working on DNA storage
Machine learning chips for everyone and everything
Chinese IT leviathan Huawei has launched a range of hardware for machine learning applications based on its own specialised silicon.
The range includes a tiny accelerator module for end-user devices, a PCIe accelerator card for servers, an AI developer kit and a self-contained, ruggedised "edge station".
Separately, the company told journalists it has started working on DNA-based storage, using synthetic nucleobases to write and read information.
The Ascend chips that power the new crop of accelerators – not to be confused with Ascend smartphones also made by Huawei – were unveiled at the company's 2018 Connect event.
Based on the Huawei's Da Vinci architecture, a single Ascend 310 can deliver 16 TeraOPS of 8-bit integer performance, supporting real-time analytics across 16 channels of HD video, while consuming less than 8W of power. Huawei previously said it is capable of simultaneous identification of 200 different objects including people, cars, obstacles and traffic signs.
At Connect 2018, the company teased the upcoming hardware, which is now finally available to buy.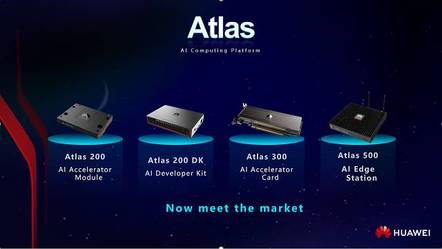 The Atlas range
The Atlas 200 AI Accelerator Module is half the size of a credit card, designed to be integrated into devices like security cameras – for image recognition – as well as drones and robots. It is powered by a single Ascend 310 and consumes around 10W.
The Atlas 300 is a larger bit of kit designed to fit PCIe slots, delivering 64 TeraOPS of 8-bit integer performance and able to process 64-channel HD video. There's 32Gb of memory on board, and the card consumes 67W. The Atlas 200 DK is a developer board with USB connectivity which ships with machine learning software, and according to Huawei, can be set up in just 30 minutes.
And finally, the Atlas 500 AI Edge Station brings 16 TeraOPS of INT8 for AI workloads at the edge of the network, packed into a weather-proof case that can operate in temperatures between -40°C and +70°C. The box consumes less than 1 kWh per day.
"AI as a new general-purpose technology will become a new basic capability to change every industry and organisation," said Ma Haixu, director of the Huawei Intelligent Computing Business Department. "Huawei has always advocated providing inclusive AI that is affordable, effective, and reliable."
He added that the Atlas platform has already been deployed in smart city, carrier, finance, internet, and electric power industries.
As for DNA storage, the company plans to develop a system that, at least theoretically, could fit 700TB of data into 1mm cube, so just 7kg of DNA-based media could store all the data in the world. This might sound impressive, but the speed of such systems leaves a lot to be desired: Huawei says writing 4MB of data into DNA currently takes around five days.
The technology has "huge potential", said Huawei's William Xu, adding that successful implementation would involve collaboration across the industry.
By investing into DNA-based storage, Huawei joins a club that includes Microsoft, Micron and Intel, among others. ®