IBM Watson Health cuts back Drug Discovery 'artificial intelligence' after lackluster sales
And seemingly uses machine learning to explain why it's kinda not but kinda is
---
IBM Watson Health is tapering off its Drug Discovery program, which uses "AI" software to help companies develop new pharmaceuticals, blaming poor sales.
The service isn't completely shutting down, however. IBM spokesperson Ed Barbini told The Register: "We are not discontinuing our Watson for Drug Discovery offering, and we remain committed to its continued success for our clients currently using the technology. We are focusing our resources within Watson Health to double down on the adjacent field of clinical development where we see an even greater market need for our data and AI capabilities."
In other words, it appears the product won't be sold to any new customers, however, organizations that want to continue using the system will still be supported. When we pressed Big Blue's spinners to clarify this, they tried to downplay the situation using these presumably Watson neural-network-generated words:
The offering is staying on the market, and we'll work with clients who want to team with IBM in this area. But our future efforts will be more focused on clinical trials – it's a much bigger market and a better use of our technology and tools.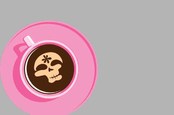 Bad cup of Java leaves nasty taste in IBM Watson's 'AI' mouth: Five security bugs to splat in analytics gear
READ MORE
IBM is giving up its efforts to develop and flog its Drug Discovery technology due to "sluggish sales," according to medical news journal Stat, which first reported the case.
The Drug Discovery service is made up of lots of different products or "modules," such as a search engine that allows chemists to crawl scientific abstracts to find information on a specific gene or chemical compound. There's also a knowledge network that describes relationships between drugs and diseases.
IBM's Health division has been crumbling for a while. Last year, it laid off a large chunk of its employees after it failed to win hospital contracts. The failure was, apparently, caused by internal competition and workplace drama.
Its technology isn't without fault, either. IBM Watson Health's Oncology AI software dished out incorrect and unsafe recommendations during beta testing. To top it all off, Deborah DiSanzo, IBM's head of Watson Health, stepped down from her position, too. ®