A former student at a $32,000-a-year private New York college pleaded guilty this week to destroying 66 computers on its campus.
Overseas student Vishwanath Akuthota, 27, graduated from The College of Saint Rose in Albany with an MBA in 2017, but for reasons still unknown returned to its campus in February 2019 armed with a "USB killer" stick that he proceeded to jam into every computer he could find, destroying them in the process.
The device, which Akuthota purchased online and which was found in his possession when he was arrested a week later in North Carolina, is designed to look like a USB storage device but when inserted into a USB port rapidly charges on-board capacitors and discharges them into the host system's electronics several times per second. The end result is that the computer's USB interface and motherboard chips are destroyed.
The gizmo is readily available on the internet, and costs about $60. It is a perfectly legal device, having been approved by both CE and the FCC for testing surge protection circuitry, but it is clearly advertised as a way to instantly kill people's computers.
In this case, Akuthota was captured on the American college's security cameras walking into several locations on the campus and inserting the device into 59 Microsoft Windows-powered machines, seven Apple iMacs, and "numerous" smart displays. He even found USB ports on some digital podiums and inserted the device into them too. The college calculates that he caused $51,109 in damages, and it cost it $7,362 to investigate and repair what it could.
There he is
When the scale of the problem became clear, the college dug out security footage and saw someone dressed in a red sweatshirt, blue jeans, black sneakers, and with a gray backpack that they swiftly identified as their former student Akuthota. They contacted the FBI, and in less than a week, the agent in charge located him 650 miles south in North Carolina and collared him.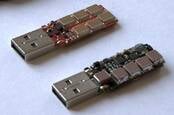 Shocker: Net anarchist builds sneaky 220v USB stick that fries laptops
READ MORE
Amazingly, not only did the Feds find the USB Killer stick Akuthota used but also video on his iPhone of him carrying out the crimes while muttering things like "I'm gonna kill this guy." After the machine was fried, he was heard to say on his own recordings, "It's dead," and "It's gone. Boom."
Needless to say, it wasn't a hard case to prove. Nonetheless when Akuthota appeared in court in New York a month later he pleaded not guilty. Prosecutors asked for him to be detained as he presented "both a danger to the community and as a risk of flight." The judge ordered [PDF] him jailed and two weeks later, Akuthota reached a plea deal [PDF] with the authorities that would see him admit his guilt and pay the college its full $58,471 damage estimate in return for more lenient sentencing.
Akuthota's sentencing will take place on August 12, and he faces a maximum $250,000 fine and up to 10 years in jail with three years probation. He is likely to receive far less than that given his plea deal. If anything it is worth bearing in mind that destroying someone else's property is a crime not to mention a really, really bad idea. ®
Similar topics