Double trouble for Lyft after share price drop sparks class action lawsuits claiming hype
Rideshare company lied about market share, claim investors
---
Rideshare company Lyft has been hit with two class action lawsuits by investors who claim the company lied about its market share.
The company went public last month, offering 32.5 million shares at a cost of $72 each. An initial spike in the price was followed by a drop, and while the shares recovered to $74 a week later they then dropped 23 per cent to $57 this week when competitor Uber released its own prospectus for an initial public offering (IPO).
In its prospectus, Uber claimed it had a 65 per cent market share – which put an immediate question mark over Lyft's claim to have 39 per cent market share. Mathematicians were quick to point out that 65+39=104.
One key part of Lyft's share pricing calculation was, according to its prospectus, that it had a 22 per cent ridesharing market share in December 2016 that had increased to 39 per cent in December 2018. Given Uber's dominance in the market, that claim caused some investors to give credibility to the IPO price that some analysts has previously thought would be lower.
In addition, it emerged that Lyft was recalling 1,000 of its bicycles due to injuries and other safety issues, representing 15 per cent of its bike-sharing fleet. In its IPO prospectus, Lyft made significant play of the fact that it has what it claimed was 75 per cent of the bike share market and it expected the size and value of that market to increase.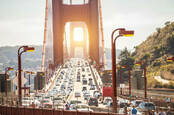 Tech hub blames tech: San Francisco fingers Uber, Lyft rides for its growing traffic headache
READ MORE
Both lawsuits from investors Brian Hinson [PDF] and Frederic Lande [PDF] make these same two points and reference the share price drop to $57. They both seek a class action lawsuit and a jury trial, claiming that both Lyft and its offices, directors and underwriters had put "materially false and misleading statements" into its prospectus as well as omitted relevant information.
It's an unfortunate black mark against what was initially hailed as a sign that tech stocks are back in fashion. There are a range of tech IPOs in the offing this year. This week Pinterest also went public and has so far been met with an initial surge (although we can't for the life of us understand why).
But the big test will come with Uber, which has been massively overpriced in private deals for years and whose prospectus has been widely mocked for pushing the dotcom boom mindset that a company doesn't need to actually make money so long as lots of people use its services. ®