Bloke faces up to 20 years in the clink after gun held to dot-com owner's head in robbery
Mastermind of armed snatch that went rather wrong is found guilty, awaits sentencing
---
A 26-year-old internet entrepreneur faces up to 20 years behind bars in America, and a potential $250,000 fine, after attempt to steal a really not-very-good domain name.
While that may sound excessive, it was how Rossi Lorathio Adams II, of Cedar Rapids, Iowa, tried to get hold of the internet address doitforstate.com that put him in trouble: he got his cousin to break into the home of the man who owned the domain name, and demanded he transfer it at gunpoint.
The armed robbery went wrong when the domain owner, Ethan Deyo, thought that the gunman, 43-year-old Sherman Hopkins, was going to kill him and fought back. In the ensuing struggle, Deyo was shot in the leg but managed to get hold of the gun and shot Hopkins several times in the chest before calling the cops. A year later, Hopkins was sent down for 20 years.
Full details of what happened and why emerged last week during a four-day trial in Iowa, and the story is even crazier than we reported previously. Back in July 2017, we were confused as to why anybody would go to such extraordinary lengths for an internet address. It turns out that Adams had become obsessed with getting hold of the domain in order to build up his business of clips of drunk people doing stupid things.
Adams set up a company called "State Snaps" while a student of Iowa State University, and built up over a million followers on social media channels – including Snapchat, Instagram and Twitter – by posting short videos of drunk students doing idiotic things, often while semi-naked.
The university wasn't amused and asked him to cut it out but Adams – going by the handle "Polo" – refused and tried to build a business out of it by running events and selling T-shirts with phrases like "Probably Drunk" as well as a common Iowa university slogan that followers had started putting on his posts: "Do it for State!"
As part of this effort, Adams trademarked the hashtag #DoItForState and tried to register the domain doitforstate.com, but it was already registered to another Iowan, Ethan Deyo, and so he had to settle for the name doit4state.com instead.
Dangerous intentions
Adams became obsessed with getting hold of the full spelled-out domain name, and things slowly escalated. In June 2015, Adams turned up to Deyo's house unannounced and told him he wanted to buy the domain name. Deyo – who had also trademarked the domain name – didn't want to sell. Adams didn't let up, though, and kept contacting Deyo and his brother Christopher about purchasing the name. When Deyo stopped responding to him, Adams got his business partner to start asking for the domain – while instructing him not to let Deyo know that they knew one another. That effort failed, too, after he said he wanted $20,000 for the name and Adams wasn't willing to pay it.
A trial jury this month heard [PDF] that Adams got increasingly aggressive – at one point sending gun emojis to someone that used doitforstate.com to promote concerts (Adams was trying to set up his site as a concert promotional tool, too). Then, in May 2017, he again turned up unannounced at Deyo's house wearing a "State Snaps" T-shirt, and told Christopher Deyo: "I'm here for the name whatever it takes. I'm not leaving without it." Deyo told the court that Adams punched his hand, presumably in an attempt at intimidation, but he again refused to sell the dot-com.
It was at this point that Adams persuaded his cousin, convicted felon Sherman Hopkins who was living in a homeless shelter at the time, to get the name through force. The details are extraordinary.
Adams took Hopkins and a friend of his – David Davis – to a Target store where Davis bought two burner phones so Hopkins and Adams could communicate during the break-in. It was an effort to cover his tracks.
Then, on June 21, 2017 – Hopkins broke into Deyo's house equipped with the phone, a taser and a handgun. He had pulled nylons over his head and was wearing sunglasses in an effort to mask his identity. When he spotted Deyo at the top of a staircase, Hopkins yelled, "Come here, motherfucker!" and ran after him, kicking in Deyo's bedroom door, grabbing him and dragging him to the home office where his computer was.
Hopkins then pulled out a handwritten note – which detectives later found Adams' palm print on – that detailed how to move the domain from Deyo's GoDaddy account to Adams'.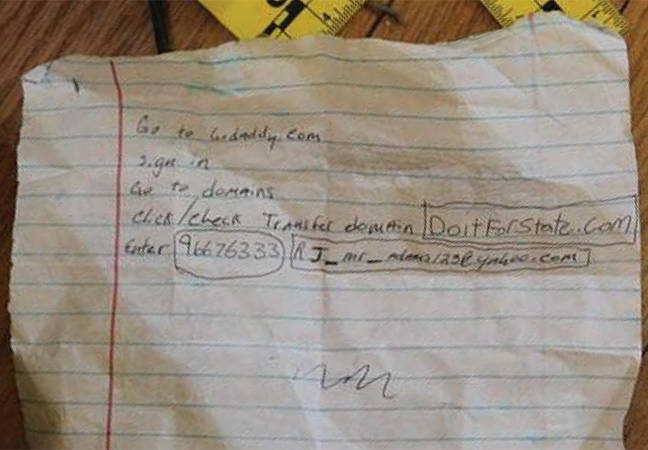 The handwritten note with instructions on how to transfer the domain
It included Adams' email address and his GoDaddy account details – an account that had several other domains in. Hopkins then put the gun against Deyo's head and told him to follow the instructions.
A bad plan goes wrong
Deyo duly did so but he needed to put in a mailing address and phone number to carry out the transfer and asked Hopkins what to type in; a request that neither Adams or Hopkins had planned for. Hopkins became infuriated and hit Deyo several times in the head with the butt of his gun and repeatedly tased him.
But the transfer still needed an address and phone number so Hopkins called Adams on the phones they had bought and ended up putting Deyo on the phone with the man that had bugging him and his brother for two years for the domain and was now trying to steal it through force. Deyo told the court he immediately recognized Adams' voice.
Adams gave Deyo an address and phone number to type in but during the exchange, Hopkins became increasingly agitated and started hitting Deyo again. Deyo testified that Hopkins told him: "This better be right. You better do this right. You know who you stole from. If you go to the police or tell anyone about this I'll be back for you."
Then, according to Deyo, he cocked the gun and threatened: "If this isn't right I'm going to blow your fucking head off!" Deyo pushed the gun away from his head and a fight broke out. The gun went off and a bullet hit Deyo in the leg. Fearing for his life, Deyo kept fighting and managed to get hold of the gun, before shooting Hopkins several times in the chest. Deyo then called the police and when they turned up they found Hopkins bleeding in his house.
Despite the whole plan having gone horribly wrong, Adams still thought he was going to get the domain, and the day after the botched robbery called GoDaddy to ask what had happened to a domain name he was expecting to see turn up in his account.
By then of course, the police were all over the situation. They had Adams' note including the email address – rj_mr_adams123@yahoo.com – and GoDaddy account number which, amazingly, wasn't an untraceable account but Adams' long-standing personal account with all of his contact details.
The police soon found their way to Adams and when he was interviewed admitted that the email address was his and that he had tried to buy the domain. He admitted that he had been to Deyo's house in the past. He denied knowing about the phones before admitting he had been with Hopkins and Davis at the Target store but didn't know what was in the bag that Davis came out with, before admitting that he did know what was in the bag and had in fact given Davis the $100 to buy the phones.
It wasn't a difficult case, and after only an hour's deliberation the jury returned with a guilty verdict for Rossi Lorathio Adams II for "conspiracy to interfere with commerce by force, threats, and violence."
He will be sentenced later this year, and faces a fine of up to $250,000 and a maximum jail sentence of 20 years – the same as his cousin who carried out the robbery. Which should give them both plenty of time to learn about search engine optimization. ®
Similar topics
Broader topics